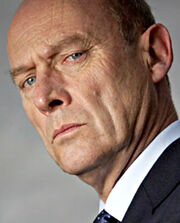 Another day, another batch of exciting season 2 casting announcements! This time the roles that have been cast are Balon Greyjoy (Patrick Malahide), Podrick Payne (Daniel Portman) and Pyat Pree (Ian Hanmore).
Lord Balon Greyjoy is the father of Theon Greyjoy, the head of House Greyjoy (one of the Great Houses of Westeros) and the ruler of the Iron Islands. He is a hard, ambitious and ruthless man. Nine years before the start of the series he rose in rebellion against the Iron Throne and was defeated in a bloody war. His elder two sons were killed and his third son, Theon, was taken by Lord Eddard Stark as a hostage for Balon's good behavior and obedience. Balon also has a daughter, Yara, who has remained on the Iron Islands and has become a warrior and captain in her own right, which is unusual for women on the isles.
Patrick Malahide (born Patrick Gerald Duggan in 24 March 1945 in Reading, Berkshire, England) is a British actor. He first appeared on screen in 1976 in the British TV series Flight of the Heron, followed by guest appearances in Sutherland's Law and The New Avengers. In 1979 he appeared as Detective Sergeant Chisholm in an episode of Minder, a role he would continue to play over the next nine years.
Malahide became a mainstay of British television, appearing in series such as Middlemarch, The Singing Detective and the first season of The Black Adder. His most recent television appearance was in the 2008 version of Survivors. On film he has appeared in movies such as The World is Not Enough, Brideshead Revisited and Captain Corelli's Mandolin.
Podrick Payne is the distant cousin of the more famous Ser Ilyn Payne, the King's Justice. He is a young man serving as a squire of Tyrion Lannister, hoping to attain the experience and knowledge needed to become a knight.
Daniel Portman is a young British actor. He appeared in the 2010 movie Outcast and has a role in the upcoming 2012 film The Angels' Share.
Pyat Pree is a warlock from the eastern city of Qarth that Daenerys will encounter while staying there.
Ian Hanmore is a Scottish actor, noted for his roles on British television and in film. In TV he has appeared in Doctor Who and Life on Mars, and in films such as The Magdalene Sisters.