Introduction
My name is Tadej Peršič and I am 35 years old (male), born on 13th of July 1980, and I grew up and still live in Ljubljana, the capital city of Slovenia (Slovenia is a country located almost at the center of Europe). I'm an ex student of Architecture who had switched to Information technology college and finally graduated in November 24, 2015. I am also a proud member of English Wikipedia from March 25 2005 onward; as of July 28 2015 the number of my edits is 1,546.
More info about me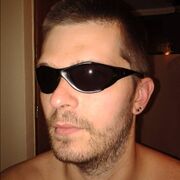 I am a guy who likes to listen to good music, watch movies and TV series, for example – beside Game of Thrones – TV series such as South Park, Futurama, Babylon 5, Star Trek, Dilbert etc. Then I also like to browse World Wide Web, post on message-boards and stuff. In general I see myself as a pretty liberal person, a pacifist, skeptic and rationalist. Otherwise I like usual stuff like meeting with my friends, enjoying my home-town and coast during the summer here in Slovenia and do various other usual things. Oh and yeah, I also like to have a good sleep every night! :)
My other profile pages
First I will again mention my somehow main personal page on about.me portal which links to my others profiles and user pages, then as second is my my blog in English, which I've created after blogging and sharing portal Posterous was acquired by Twitter and shutdown, which also meant the end of my blog there (which had quite a lot of posts); there exists another blog of mine on WordPress, but this one is in Slovene. Next is my professional profile on LinkedIn, then there are of course my many accounts' pages on various social networking internet sites such as my profile on Twitter and my profile page on Facebook, my personal page on MySpace, and my user page on Fubar community portal. Finally, here is also a link to my profile page on Scribd (with various seminar papers from my 2 year study of Informatics), while for a few other such account pages rather see the my-accounts.html page on my main personal website.
My Wikia userpages