House of the Dragon Trailer - The Loop
Play Sound
"The Red Woman" is the first episode of the sixth season of Game of Thrones. It is the fifty-first episode of the series overall. It premiered on April 24, 2016. It was written by David Benioff & D.B. Weiss and directed by Jeremy Podeswa.
Plot
At Castle Black, Thorne defends his treason while Edd and Davos defend themselves. Sansa and Theon race the cold and the hounds.
Summary
In the North
Ramsay and Maester Wolkan attend to the dead body of Myranda. Ramsay remembers the first time he met her, stating that while other people were afraid of him, she wasn't. The maester asks if they should bury her or construct a funeral pyre. Ramsay says she is good meat and they should feed her to the hounds.
Theon and Sansa, having survived the fall from Winterfell's wall, run through the Wolfswood realizing there are already men with hounds chasing them. Theon tries to hide their scent by crossing a river. Guiding a frightened Sansa, they make it across and hide by a fallen tree with Theon hugging Sansa to try to keep her warm. Hearing the dogs still after them, Theon tries to lead them away, telling Sansa to keep heading north for Jon and Castle Black. A group of Bolton men sent by Ramsay, with the Bastard's Girls, find them. Theon claims Sansa was hurt when they jumped and he left her to die, but the dogs find her. The leader mocks Theon over what Ramsay will do to him now and prepares to bring them back to Winterfell. Brienne and Podrick arrive and a fight begins. Brienne kills most of them while Podrick displays the techniques she taught him, managing to kill one. He is then attacked by another and briefly holds his own before being knocked down but Theon grabs a sword and kills the Bolton man. Sansa accepts Brienne into her service. Where they go next is uncertain.
Roose Bolton meets with Ramsay afterward and asks if preemptively assaulting the struggling army of Stannis Baratheon makes him feel like a "winner" now that they've lost Sansa. A Lannister army marching north could easily overwhelm the Bolton troops at Winterfell and the Dreadfort. Ramsay assures his father they will recapture Sansa as he's sent his best men to find her. Roose continues that they need her to rally the north against the Lannisters, if need be, and subtly warns Ramsay that if he fails to recapture her, his unborn brother will become his heir.
In Braavos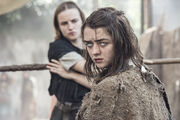 Arya is blind and begs for money in the streets, when the Waif approaches her with two fighting sticks, and gives her one. Arya explains that she can't fight because she's blind, the Waif answers "that's not my problem" and starts beating her. Arya poorly tries to defend herself but fails miserably. The Waif stops and says that they'll meet tomorrow.
In Meereen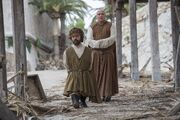 Varys and Tyrion are seen walking through the city of Meereen, dressed as merchants. After coming upon a starving woman and her baby, Tyrion offers a coin, saying the money is for the baby, to eat. His poor Valyrian frightens the woman who thinks that he wants to eat her baby. Varys intercedes, explaining to the woman the money is so the baby can eat. The relieved woman accepts Tyrion's generosity.
As they continue their walk through the city, Tyrion states that they need to find the leader of the Sons of the Harpy in order to bring peace to Meereen. Varys said that his spies have been sent all over the city, and that soon they will bring him information. Their conversation is interrupted by a crowd of screaming people running from a huge cloud of smoke. The two make their way towards the origin of the smoke: all the ships in the harbor have been set aflame.
In the Dothraki Sea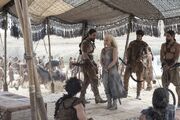 Daario and Jorah are looking for Daenerys, and come upon the charred remains of a ram. They note numerous hoof prints on the ground, making Jorah realize that the Dothraki have been here. On the ground, he finds the ring that Daenerys intentionally dropped.
Daenerys is shown walking with her hands bound, and two Dothraki take her to Khal Moro as a gift. The Khal wants to rape her, but she explains who she is, Khal Drogo's widow. The Khal unbinds her and promises her that she will not be harmed. When Daenerys asks to be escorted back to Meereen in exchange for the promise of one thousand horses for her safe return, Moro's wife tells her that she has to remain in the temple of Vaes Dothrak with the other Khals' widows for the remainder of her days and become a Dosh khaleen.
In Dorne
Ellaria helps Doran get to his wheelchair, as they both reminisce about Oberyn, with Doran stating how he envied his late brother for the adventurous life he led. Ellaria states that Doran would have made a bad adventurer, while Oberyn would have been a bad ruler. After settling into his chair, Maester Caleotte brings him a message that Myrcella has died. Before he can give an order, Tyene stabs Areo Hotah in the back, killing him, while Ellaria stabs Doran in the chest. As he lies on the floor his guards do nothing, indicating they have sided with Ellaria. As she twists her knife into Doran, Ellaria angrily says he remained passive despite the brutal deaths of both his sister and brother, and that the people of Dorne are with her, now. As he is gasping, Doran begs Ellaria to spare Trystane, but Ellaria coldly scoffs at him. Doran then dies in a pool of his own blood.
In King's Landing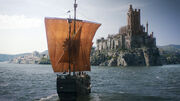 Cersei is sitting alone in her room, when a servant enters and announces that a ship from Dorne has arrived. Realizing that Myrcella has come home, she joyfully runs down to the harbor, only to see a grim-faced Jaime alongside a shrouded body. She tearfully realizes that her daughter has died.
Later, in the Red Keep, Cersei asks Jaime when was the first time he saw a dead body, to which Jaime replies their mother's. Cersei tells of her memory of the horror she felt after first seeing her mother's corpse, and wishes not to see it happen to Myrcella. She reveals Maggy's prophecy to Jaime, but he dismisses it as nonsense.
Meanwhile, Margaery is still imprisoned by the Faith, and the High Sparrow comes to visit her. She asks about her brother, Loras, but he tells her that she has to confess first. When she admits that nobody is without sin, he tells her that she is on the right path but still has a long way to go.
Obara and Nymeria arrive on Prince Trystane's ship, announcing their intention to kill him. Nymeria offers Trystane the choice of which one of the Sands he'd like to fight, and he chooses Nymeria, only to be killed when Obara impales him through the back of his head as he turns his back on her.
At the Wall
At the Wall, the mutineers have left Jon's body where he fell. Ghost is scratching at the door in grief and howling, which gets the attention of several people, including Ser Davos, who leaves his room to investigate. Davos finds Jon's dead body just before Edd and some other brothers arrive. They take the body inside where Edd clears a table and angrily curses Thorne after closing Jon's eyes. Davos asks if Edd trusts any of his brothers, and Edd replies, "The ones in this room." Davos convinces Edd to go bring Ghost in, deciding that they need all the help they can get. Melisandre arrives, stating she saw Jon fighting in Winterfell in the flames. Davos and the black brothers doubt the now dead Lord Commander could do such a thing and she returns to her room.
Alliser Thorne, Othell Yarwyck, and Bowen Marsh hold a meeting with the remaining black brothers stationed at Castle Black and explain their reasoning for killing the Lord Commander. Most of the brothers come to understand them and side with the mutineers. Back inside the room, Davos notes Thorne is sure to have made his move by now. In response, Edd states he doesn't care because Jon was his friend and they butchered him and he rallies the loyal brothers to try and take out Thorne in revenge. Davos responds they are hopelessly outnumbered, stating Ghost isn't enough when Edd brings him up, before reminding them there are others nearby who owe Jon their lives. Realizing he means the Wildlings, Edd instructs them to bar the door and not let anyone in while he sneaks out to get help.
Thorne and senior members of the Watch approach the room, with members of the Watch in tow bearing arms. Thorne speaks to Davos through the locked door and promises full amnesty for the members of the Watch. To Davos he offers a fresh horse and safe passage to ride south or in any direction he wishes, and that he can take Melisandre with him. Ser Davos mocks what he knows to be an insincere offer by requesting mutton. Ser Davos tells Thorne he is a poor hunter and does not want to starve, so he needs some mutton for his trip. Thorne promises him food will be provided. Ser Thorne says the offer is available as long as everyone in the room surrenders by sundown.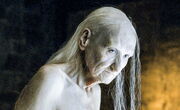 Alone in her bedroom, Melisandre appears despondent, looking as if she has been betrayed and led astray by The Lord of Light. On a table next to her bed are various containers, some small that contain potions and other liquids. She unbuttons the front of her dress showing a young beautiful body. She then removes the dress completely and stands nude before a mirror. When she removes her large necklace the gem loses its glow. In the mirror, Melisandre's reflections shows she has transformed or morphed back to a 400-year-old woman she has been said to be, a frail old woman with sagging breasts, leathery skin and thin wispy white hair. Fully nude, with her head bowed down in a despondent manner, she slowly climbs into bed and pulls the fur blanket on top of her.
Appearances
First
Deaths
Cast
Cast notes
19 of 29 starring cast members appear in this episode.
Starring cast members Aidan Gillen (Petyr Baelish), Rory McCann (Sandor Clegane), Nathalie Emmanuel (Missandei), Kristofer Hivju (Tormund), Isaac Hempstead-Wright (Bran Stark), John Bradley (Samwell Tarly), Dean-Charles Chapman (Tommen Baratheon), Jerome Flynn (Bronn), Hannah Murray (Gilly), and Tom Wlaschiha (Jaqen H'ghar) are not credited and do not appear in this episode.
Jonathan Pryce is added to the main cast with his name appearing in the opening credits, starting with this episode. He previously appeared in a recurring role in the fifth season.
Boian Anev, Kristina Baskett, Richard Bradshaw, Chris Cox, Jake Cox, Matt Crook, Vladimir Furdik, Richard Hansen, Paul Howell, Rowley Irlam, Jack Jag, Milen Kaleychev, Leigh Maddern, Leona McCarron, Casey Michaels, Sian Milne, Camilla Naprous, Paul Shapcott, Ryan Stuart, Andy Wareham, Annabel E. Wood, and Miguel Ángel Luque were stunt performers in this episode.
Notes
When Arya is begging and a passerby puts a coin in her bowl, the coins are visible in closeup: the one the man puts in is actually one of the square iron Braavosi coins first introduced in Season 3, which have the image of the Titan of Braavos stamped on them. These square iron coins are how Braavosi currency is described in the novels. Starting in Season 4, however, the TV series introduced a new coin being used in Braavos that hasn't been mentioned in the books: round coins with the symbol of the Iron Bank of Braavos on them (any symbol the bank might use hasn't been described in the books yet). The other coin in Arya's bowl is round but the markings aren't distinguishable. The discrepancy between the square coins with the Titan on them and the round ones with the bank symbol on them is unclear - however, even the currency system used in Westeros is divided into different denominations of coins of difference sizes and materials (Gold Dragons, Silver Stags, and Copper Pennies), so it is entirely possible that Braavosi currency has other denominations.
Tyrion Lannister once again displays, as he did in the Season 5 finale, that he knows how to speak High Valyrian. The joke also continues that it isn't his native language so he's a bit rusty and makes a few grammar mistakes. In the novels he actually speaks High Valyrian quite well, though admittedly he didn't grow up speaking it or the Low Valyrian dialects of Essos as his mother-tongue the way that Daenerys did (David Peterson confirmed they are speaking High Valyrian in this scene, not the local Ghiscari Low Valyrian)[4]

Varys, in contrast, can speak Valyrian much more fluently - given that as he explained in Season 3, he was born a slave in Lys and thus spoke Valyrian dialects as his mother tongue. Or was born in Lys, then was part of a troupe of actors who moved around between the different Free Cities, until he was castrated and left for dead in Myr, where he spent some years as a pickpocket (note that in this episode he mentions he was once a thief).
Varys says that "Mhysa" is the "Valyrian" word for mother. Strictly speaking this is true: it is actually the Old Ghiscari word for "mother", and that is now a dead language, but it influenced the Ghiscari Low Valyrian that replaced it, which contains numerous loanwords from it. "Mhysa" is thus a "Valyrian" word much in the same way that "rodeo" is an English word (when "rodeo" is really a direct loanword from Spanish).
For the third time now, the incongruent graffiti has appeared in Meereen which is written in the Common Tongue of Westeros, despite the fact that everyone there speaks Valyrian (and even using the writing system of Westeros - in the novels, Valyrian uses a system of glyphs). In-universe it is possible that some local slaves simply speak the Common Tongue, though out-of-universe it was apparently just so the audience can read it. For that matter, the graffiti now switches between using both Valyrian and Common Tongue words: "Mhysa is a master" instead of perhaps "Mother is a master", etc.
Season 5, however, switched back to consistently using only the format "King of the Andals and the First Men" - to the point that the use of the phrase "of the Rhoynar" in the Season 4 finale was assumed to just be a single isolated script error.

Now, in the Season 6 premiere, the TV series has once again flopped back to using the full title from the novels, "Queen of the Andals, the Rhoynar, and the First Men", without explanation. At this point it is unknown what the actual title is even supposed to be in the TV continuity.

This is actually the first episode in which Eddison Tollett is referred to in dialogue by his common nickname from the novels, "Dolorous Edd".
Mutiny at Castle Black - books versus TV series
This episode confirms that in the TV continuity, the victory of the Boltons over Stannis had nothing to do with the motivations for the mutiny against Jon Snow: it is presented as purely about the wildlings. In the novels, the other Watch officers mutiny against Jon because Ramsay Bolton threatened to attack the Night's Watch, and Jon wanted to break his oath of neutrality to ride out and fight him first - thus in the books the wildlings were already through the Wall when the mutiny occurred, but this was irrelevant because they mutinied for a different reason altogether. No attempt is made to overtly explain why, in the TV version, Thorne would have let the wildlings through the Wall in the first place if only to kill Jon for it later, when he simply could have barred the gate to them. In the episode itself, it's said that about 40 of the 50 men remaining in the garrison are loyal to Thorne at this point, and it is not presented as if he feared rebuke at the time if he didn't open the gate.

Moreover, even if the intention was that Thorne feared publicly turning against Jon earlier when he opened the gate, the TV version never presents any explanation for what exactly Thorne intended to achieve by killing Jon after the wildlings are through the Wall - how this would "save" the Watch even though Jon already let thousands of wildlings through to the undefended south side of the Wall.
The "Previously on Game of Thrones" segment which ran at the beginning of this episode even re-shows the footage of Thorne letting the wildlings through the gate - highlighting to viewers who hadn't rewatched the end of Season 5 for a full year that this is how the specific sequence of events played out in the TV version.
In the "Inside the Episode" featurette immediately following the episode, showrunners Benioff and Weiss outright give contradictory explanations for what Thorne's motivations were. Weiss begins by saying that Thorne has hated Jon since Season 1, the mutiny was a naked "power grab", and was made entirely for selfish reasons due to the older officers' grudge against the wildlings. Immediately following this the camera cuts to Benioff, who gives the explanation that the mutiny was actually like the assassination of Julius Caesar, explicitly in the sense that everyone who stabbed Jon did it for selfless reasons, Thorne wasn't making a power grab, he was doing what he honestly felt was best to save the Night's Watch.
Thorne's speech, in which he explains his motives, seems to resemble the one Brutus gives after the assassination in Julius Caesar, that he did it for what he believed to be the survival of their organization - which matches what Benioff said. Weiss apparently believes that Thorne is simply lying.
For more information see the article "Bastard Letter"
Dorne
The TV series has drastically altered the Dorne subplot of House Martell, and drastically altered it even more in this episode: neither Doran Martell, Trystane Martell, nor Areo Hotah have died in the novels.
This episode itself doesn't make explicit where Trystane's ship actually is, but the following episode "Home" states that it was still in the harbor of King's Landing (the HBO Viewer's Guide explained that Cersei forbid Trystane to debark and enter the city but he refused to leave without attending Myrcella's funeral, leading to an impasse). In the next episode Tommen also states that he suspects Cersei was responsible for Trystane's assassination - apparently explaining why the Sand Snakes waited to kill him when and where they did, to throw suspicion onto her.
For full notes, see the "Coup in Dorne".
Gallery
Videos
Images
Quotes
Alliser Thorne: "You all know why you're here. Jon Snow is dead."
Night's Watch man: "Who killed him?"
Alliser: "I did. And Bowen Marsh and Othell Yarwyck and the other officers in this castle."
Night's Watch Men: "Murderers! Traitors!"
Alliser: "You're right! We've committed treason, all of us. Jon Snow was my Lord Commander. I had no love for him. That was no secret. But I never once disobeyed an order. Loyalty is the foundation on which the Night's Watch is built. And the Watch means everything to me. I have given my life, we have all given our lives to the Night's Watch. Jon Snow was going to destroy the Night's Watch. He let the wildlings through our gates as no Lord Commander has ever done before. He gave them the very land on which they reaved and raped and murdered. Lord Commander Snow did what he thought was right, I've no doubt about that. And what he thought was right would have been the end of us. He thrust a terrible choice upon us. And we made it."

---
Roose Bolton: "Your command of the cavalry was impressive. Thanks to you, the false king Stannis Baratheon is dead. Do you know who struck the killing blow?"

Ramsay Bolton: "No."
Roose: "A shame. I'd reward the man. Still, a great victory. Do you feel like a victor? I rebelled against the crown to arrange your marriage to Sansa Stark. Do you think that burning wagons in the night and mowing down tired, outnumbered Baratheons is the same as facing a prepared and provisioned Lannister army?"
Ramsay: "No.
Roose: "A reckoning will come. We need the North to face it. The entire North. They won't back us without Sansa Stark. We no longer have Sansa Stark. You played your games with her. You played your games with the heir to the Iron Islands and now they're both gone."
Ramsay: "I have a team of men after them with some of my best hounds. They won't get far."
Roose: "I'm glad to hear it. Without Sansa, you won't be able to produce an heir. And without an heir, well... let's hope the maesters are right and Lady Walda's carrying a boy."

---
Ellaria Sand: "When was the last time you left this palace? You don't know your own people. Their disgust for you. Elia Martell raped and murdered, and you did nothing. Oberyn Martell butchered, and you did nothing. You're not a Dornishman. You're not our prince."

Doran Martell: "My son Trystane..."
Ellaria: "Your son is weak just like you. And weak men will never rule Dorne again."

---
[Khal Moro grabs Daenerys's shirt]
Daenerys: "Do not touch me. I am Daenerys Stormborn of the House Targaryen..."
[Khal Moro lets go of Daenerys's shirt and steps backward]
Daenerys: "...The First of Her Name, the Unburnt, Queen of Meereen, Queen of the Andals and the Rhoynar and the First Men, Khaleesi of the Great Grass Sea, Breaker of Chains and Mother of Dragons."
[pause. Then Khal Moro bursts out laughing, followed by his companions. He grabs Daenerys's neck]
Moro: "You are nobody, the millionth of your name, Queen of Nothing, slave of Khal Moro. Tonight I will lie with you, and if the Great Stallion is kind, you will give me a son. Do you understand?"
Daenerys: [defiantly] "I will not lie with you. And I will bear no children, for you, or anyone else. Not until the sun rises in the west, and sets in the east."

In the books
The episode is adapted from the following chapter of A Feast for Crows:

Chapter 39, Cersei IX: Cersei tells someone about Maggy's prophecy; that person dismisses the prophecy as nonsense.

The episode is adapted from the following chapters of A Dance with Dragons:

Chapter 38, The Watcher: Someone plots to assassinate Trystane Martell.
Chapter 45, The Blind Girl: Arya Stark, rendered blind by the Faceless Men for an unsanctioned killing, learns to rely on her remaining senses. As a test, a Faceless Man hits her with a stick.
Chapter 46, A Ghost in Winterfell: One of Ramsay's servants is found dead. Ramsay is furious, promising to get even with the killer.
Chapter 51, Theon I: Theon Greyjoy and Ramsay's bride flee from Winterfell with Ramsay's men in pursuit until they find help.

Most of the episode appears to draw material from what will come in the sixth novel, The Winds of Winter, particularly the storylines of the aftermath of Jon Snow's death and Daenerys Targaryen dealing with the Dothraki.
Catching up with the novels in Season 6
Though Season 6 has been widely described as the point when the TV series surpasses the novels, this is not exactly true, as storylines have been adapted at an uneven pace. The showrunners always said they felt they were adapting the story as a whole, not neatly matching up the endings of each book to each season. Indeed, Tyrion surpassed his current book material already by meeting Daenerys at the end of Season 5 - which was on the verge of happening at the end of the current, fifth novel. Broadly, preview chapters released for the as-yet unpublished sixth novel can be counted as "released" material. The point still stands that several of the storylines for some of the most central characters have now surpassed the novels - Jon Snow, Daenerys Targaryen, and Tyrion Lannister - but many other subplots have not.
Characters and subplots that have caught up with their current material from the novels:
Characters and subplots that have not yet caught up with the books:
Tyrion's storyline as he was heading east to Meereen in book five also introduced a new subplot involving a major political shakeup in the Free Cities, but this was cut completely from from Tyrion's storyline in Season 5. After he leaves for Meereen it subsequently intersects with several other subplots (not Arya's). This Free Cities subplot will probably be cut entirely from the TV series.
See also
References