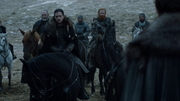 Does someone know who the two commanders behind Tormund are? I think they are the Mazin and Hornwood commanders.
Lerrative
(
talk
) 14:20, June 21, 2016 (UTC)
Yes, I think so. Spanish assassin (Talk) 14:42, June 21, 2016 (UTC)
Its a possbility. Are those two in the war council scene?--Gonzalo84 (talk) 19:47, July 6, 2016 (UTC)
Community content is available under
CC-BY-SA
unless otherwise noted.