Writer and Cast
Dave Hill was confirmed as the writer for this episode.
We could probably add the cast members from the promo and the synposis as well. 
Alcasinoroyale (talk) 02:07, April 26, 2016 (UTC)
"Home" or "Homeward Bound"
The episode titles are conflicting between "Home" and "Homeward Bound" on several news sources. The HBO website states that the episode title is "Home", IMDB goes by "Homeward Bound", but HBO trumps IMDB in this situation, right?
SW-1313 (talk) 12:38, April 26, 2016 (UTC)
Homeward Bound was apparently a Girls episode that aired few weeks ago.--Gladiatus (talk) 14:34, April 26, 2016 (UTC)
Aaah, that makes a lot of sense now. Thanks! SW-1313 (talk) 21:33, April 26, 2016 (UTC)
Image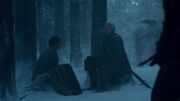 I uploaded this image but the article cause it's locked. Can anyone with permission add it please? Its taken from the video. --Lattuccino (talk) 18:50, April 27, 2016 (UTC)
Euron's eyepatch
Euron has both of his eyes in the books. He just hides the other one, the one Victarion describes as "black filled with malice". So I'd change the passage in the Notes section to "In the TV series he doesn't." --Gladiatus (talk) 14:26, April 28, 2016 (UTC)
Confirmed Cast
Series Regulars
Peter Dinklage as Tyrion Lannister
Nikolaj Coster-Waldau as Jaime Lannister
Lena Headey as Cersei Lannister
Kit Harington as Jon Snow
Liam Cunningham as Davos Seaworth
Sophie Turner as Sansa Stark
Maisie Williams as Arya Stark
Issac Hempstead-Wright as Bran Stark
Conleth Hill as Varys
Alfie Allen as Theon Greyjoy
Gwendoline Christie as Brienne of Tarth
Jonathan Pryce as The High Sparrow
Nathalie Emmanuel as Missandei
Dean-Charles Chapman as Tommen Baratheon
Tom Wlashchiha as Jaqen H'ghar
Michael McElhatton as Roose Bolton
Iwan Rheon as Ramsay Bolton
I thought Gemma Whelan and Pilou Asbæk would be regulars this season. They are both playing big characters.--Mesmermann (talk) 00:28, April 29, 2016 (UTC)