We're Getting Mutants in the MCU - The Loop
Play Sound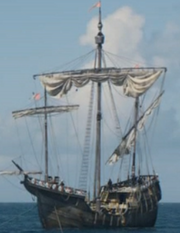 Theon Greyjoy: "A ship? She gets thirty and I get one?"
Yara Greyjoy: "The Sea Bitch. We thought she'd be perfect for you."
The Sea Bitch is a longship of the Iron Fleet.
History
Background
The Sea Bitch is assigned to Theon Greyjoy for raiding along the Stony Shore.[1]
The crew of about 20 men are led by Theon in the surprise seizure of Winterfell.[2]
Crew
In the books
In the A Song of Ice and Fire novels, the Sea Bitch is a ship built in Lordsport by Sigrin the Shipwright. It does not belong to the Iron Fleet. The ship isn't given to Theon as a slight against him and is not the only ship he commands. The crew assembled by Theon is composed by:
Rymolf Stormdrunk, a steersman in the crew of Victarion Greyjoy
Urzen
Maron Botley, called Old Botley and Fishwhiskers
Stygg
Gevin Harlaw
Cadwyl
In the books, Asha (Yara) actually just disparagingly calls Theon's new ship "a sea bitch", and Theon impudently declares that she just picked a great name, so Theon himself chooses to name it "Sea Bitch". In the TV version Yara mockingly assigns Theon a ship already named "Sea Bitch", making the joke at his expense instead of hers as in the book.
See also
References