For similar articles see Lannister soldier.
"Loras Tyrell? He's prettier than the queen."
―Rennick
Rennick was a man-at-arms in the service of House Lannister.
Biography
Background
Rennick is a soldier on sentry duty at the camp of the Lannister forces commanded by Ser Stafford Lannister on their way to reinforce Tywin Lannister's army in the Riverlands.
He is on duty with a Lannister guardsman at the perimeter of Stafford Lannister's camp prior to the Battle of Oxcross. They debate on who is the greatest swordsman in the Seven Kingdoms. He argues against Ser Gregor Clegane who is big rather than skilled, and Ser Loras Tyrell who is just too pretty, though he does give credit to "our man Jaime, if he ever gets out".
They both hear that the horses are spooked, but they aren't too concerned. Then he hears something and walks out into the darkness. The other guardsman follows hesitantly. When Rennick starts to draw his sword the man thinks they are being attacked, but Rennick merely passes gas and starts laughing at him.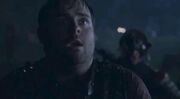 As Rennick stops to urinate, the guardsman sees that the horses are getting more upset not less, but Rennick is not paying attention until the man screams his name. Rennick looks up just in time to see the direwolf Grey Wind leaping out of the darkness at him. He loses part of his face during the attack. In the subsequent attack by the Stark army the camp is taken completely by surprise and the Lannister army is annihilated.[1]
Appearance
Gallery
In the books
In the A Song of Ice and Fire novels, there is no character named Rennick.
References
Community content is available under
CC-BY-SA
unless otherwise noted.