Doctor Strange in The Multiverse o Madness - The Loop
Play Sound
"I do not know the place from where old Ser comes. Things maybe are different there, I hope. But here, in Meereen, before Daenerys Stormborn, they own us. So we learn much about them, or we do not live long. They teach me what they are. "Mercy," "fair trial," these mean nothing to them! All they understand is blood!"
―Mossador
Mossador was a former slave from Meereen.
Biography
Mossador attempts to convince his fellow slaves to join Daenerys Targaryen and defeat the Great Masters, though he meets resistance from skeptical older slaves who have lived through failed slave rebellions. After Grey Worm motivates them even further than Mossador and provides them with weapons, they launch a revolt against the Masters.[1]
Mossador, now representing Meereen's freedmen in Daenerys's small council, reports to Daenerys Targaryen along with Grey Worm that White Rat, one of the Unsullied, was found with his throat slit at a brothel, murdered by the Sons of the Harpy.[2]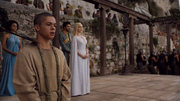 Mossador is present when the council debates what should be done with a captured Harpy's Son. When the queen decides to give the prisoner a fair trial, Mossador interprets Daenerys's decision on the matter to mean that her hands are tied, and without permission, kills the captive. Daenerys has him brought out in chains before a crowd for execution, as a warning to everyone, freed slave or Great Master, not to pervert the course of justice. He pleads for forgiveness but she has Daario cut off his head, causing a riot.[3]
Appearances
Behind the scenes
The character was originally credited as "slave" in Season 4. Season 5 casting news revealed the character's name as "Keyr", but on March 21st it was revealed the character's name was changed to "Mossador".[4]
In the books
In the A Song of Ice and Fire novels, Mossador is the name of one of the three brothers of Missandei who were enslaved alongside her and made into Unsullied and one of two who survived the training. After being liberated by Daenerys, Mossador is one of the Unsullied who reclaims his birth name. While patrolling the streets of Meereen at night, Mossador and another of the Unsullied were ambushed by the Sons of the Harpy. They were crushed to death by falling stones beneath the river wall.
"Mossador" in the TV series is not Missandei's brother: the TV writers just re-used a name from the novels for a separate character. While he has no direct counterpart in the novels, TV-Mossador is a condensation of several former slave characters in Meereen who don't want peace with the former slave masters.
See also
References
Lord:
None
Heir:
None

Seat:
Dragonstone, Dragonstone island
Lands:
The Crownlands
Titles:
Queen of Meereen · Khaleesi of the Great Grass Sea · Queen of the Andals, the Rhoynar, and the First Men (claimant) · Lady Regnant of the Seven Kingdoms (claimant) · Protector of the Realm (claimant)
Ancestors:
Aenar · Daenys · Aegon I, the Conqueror · Visenya · Rhaenys · Aenys I · Maegor I, the Cruel · Rhaena · Aegon · Jaehaerys I, the Concilliator · Alysanne Targaryen · Viserys I · Rhaenys Velaryon · Daemon · Aemma Arryn · Rhaenyra · Alicent Hightower · Aegon II, the Usurper · Helaena Targaryen · Aemond · Aegon III · Viserys II Targaryen · Jaehaera · Jaehaerys · Maelor · Daeron I, the Young Dragon · Baelor I, the Blessed · Aegon IV, the Unworthy · Naerys · Aemon the Dragonknight · Daena the Defiant · Rhaena · Elaena · Daeron II, the Good · Daenerys of Sunspear · Myriah Martell · Daemon I Blackfyre · Brynden Rivers · Aegor Rivers · Shiera Seastar · Baelor Breakspear · Aerys I · Aelinor · Rhaegel · Maekar I · Dyanna Dayne · Aerion Brightflame · Aegon V, the Unlikely · Duncan the Small · Daeron
Deceased members:
Aerys II, the Mad · Rhaella Targaryen · Rhaegar Targaryen · Elia Martell · Rhaenys Targaryen · Aegon Targaryen · Lyanna Stark · Viserys Targaryen · Drogo · Rhaego · Aemon · Daenerys Targaryen
Household:
{Ser Jorah Mormont} · {Ser Barristan Selmy} · {Rakharo} · Kovarro · Aggo · {Qhono} · {Irri} · {Doreah} · Jhiqui · Malakho · {Missandei} · Grey Worm · Daario Naharis · {Mossador}