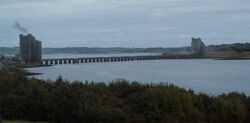 Lord of the Crossing is a title held by the ruler of the castle complex known as the Twins and its surrounding lands in the Riverlands. It is traditionally held by the head of House Frey, a vassal family to House Tully of the Riverlands. The title stretches back several hundred years, to when the founder of House Frey began charging a toll to cross the wooden bridge over the river.
Community content is available under
CC-BY-SA
unless otherwise noted.