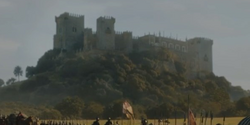 The Lord of Highgarden is the ruler of the stronghold of Highgarden, the capital of the Reach. The Lord of Highgarden usually holds the additional titles Lord Paramount of the Reach and Warden of the South.
The Reach was originally a sovereign nation known as the Kingdom of the Reach, until Aegon the Conqueror arrived in Westeros and united the Seven Kingdoms. House Tyrell have been the Lords of Highgarden since Aegon's Landing; however, House Gardener were the original Kings of the Reach and the original Lords of Highgarden.
Olenna Tyrell was the last Tyrell Lady of Highgarden. Olenna inherited the title from her son Mace Tyrell, who died in the Destruction of the Great Sept of Baelor during Loras Tyrell's trial. She later died after poisoning herself following the Sack of Highgarden.
References