"Kill the Boy" is the fifth episode of the fifth season of Game of Thrones. It is the forty-fifth episode of the series overall. It premiered on May 10, 2015. It was written by Bryan Cogman and directed by Jeremy Podeswa.
Plot
Dany makes a difficult decision in Meereen. Jon recruits the help of an unexpected ally. Brienne searches for Sansa. Theon remains under Ramsay's control.
Summary
In Meereen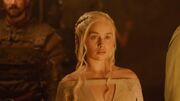 Missandei watches over the wounded Grey Worm, who is still unconscious from his wounds sustained fighting the Sons of the Harpy. Daenerys and Daario Naharis watch over the deceased Ser Barristan Selmy. Hizdahr zo Loraq enters to extend his condolences. Daario suggests pulling back around the pyramid to use it as a base from which to eradicate the Sons of the Harpy. Daenerys instead opts for rounding up the leaders of each great family in Meereen, including Hizdahr. The leaders are brought to the catacombs where Rhaegal and Viserion are chained up. Daenerys's Unsullied push the leaders slowly towards the two dragons, who can be heard growling from the darkness. Daenerys states that good mothers do not give up on their children; they discipline them if needed, but never give up on them. She nods to Daario to push one of the leaders further forward. A sudden burst of flame from Rhaegal sets the man aflame before he is torn apart and eaten by both dragons. Daenerys suggests that the dragons may determine the innocence of the captives and touches Hizdahr's back as if she wanted to push him but then she pretends she wants not to overfeed the dragons and lets the rest of the men be led away.
Grey Worm wakes up later with Missandei sitting beside him. He asks if Barristan Selmy survived the attack by the Sons of the Harpy but Missandei shakes her head. Grey Worm thinks he has failed Ser Barristan, his men and Daenerys – a claim Missandei denies. Missandei tells him he shouldn't be ashamed for being wounded given that he was ambushed and outnumbered, but Grey Worm says he is ashamed that he was afraid when he was stabbed. Missandei says that everyone fears death. However, Grey Worm says it isn't death he fears, it is the thought of never getting to see Missandei again that terrified him. Missandei is noticeably touched and kisses Grey Worm.
Daenerys asks Missandei whether she should reopen the fighting pits. Missandei only says that she has seen Daenerys listening to her counselors when her own experience was lacking and ignoring them when she thought they were wrong. Daenerys visits the imprisoned Hizdahr, who begs for his life. Daenerys tells him she has decided to reopen the fighting pits, but only for free men. She also says that she will marry the head of an ancient family of Meereen to forge a bond with the people of the city, and that she luckily has one of them on his knees already. She leaves a very confused Hizdahr to ponder that he will live, and that he will soon be Meereen's prince consort.
At the Wall
Sam reads a note from Slaver's Bay to Maester Aemon updating him on Daenerys's situation. Sam praises Daenerys's courage but Maester Aemon worries about his great-niece's safety because she is all alone, under siege, and with hardly anyone to guide her, while her "last relation" is useless and dying thousands of miles away. Jon Snow enters to speak with Aemon in private. He needs the maester's advice on a controversial order that half of the Night's Watch will hate him for. Aemon tells Jon that half the men at Castle Black already hate him, but that he should trust in his command. He says that Jon will not enjoy being Lord Commander, but with luck, he may find the strength to do what needs to be done. Jon is told to "kill the boy, and let the man be born."
Jon then meets with Tormund and offers to forge an alliance with the wildlings, bidding Tormund to go north of the wall and rally them all. He will open the gates for them and give them land south of the wall in which to settle. In return, the wildlings will fight alongside the Night's Watch when White Walkers arrive. Tormund is initially reluctant and to convince him, Jon unlocks his chains, freeing him. Tormund relents, and reveals that most of the wildlings are up at Hardhome. Jon offers him horses and men to bring the wildlings back. Tormund tells him that they'll need ships to bring his people back, which Jon says he'll borrow from Stannis. Tormund's final condition is that Jon accompany him as a guarantee that the wildlings will not fall prey to any traps set by the Night's Watch.
The men of the Night's Watch do not take news of the alliance well, citing the countless innocent lives lost due to the wildlings. Even Jon's friend Edd rejects this decision, stating that the wildlings killed their friends Grenn and Pyp. Nevertheless, Jon decides to go ahead with his plan, insisting that if they abandon the wildlings at Hardhome, the White Walkers will exterminate them all and then raise their corpses as more wights to swell their ranks . In the library, Sam tells Gilly about his wish to go to Citadel and become a maester before he was sent to the Night's Watch, when Stannis walks in. Stannis reminisces about how Sam's father, Randyll Tarly, defeated Robert Baratheon in the Battle of Ashford. Stannis wants to know how Sam killed the White Walker and Sam tells him how he did it with a dagger made of dragonglass. Stannis muses that it is abundantly available in Dragonstone. Sam has been researching dragonglass and how it can kill White Walkers, but has yet to come up with anything. Stannis tells him to continue his research and leaves.
Later, Stannis tells Davos that they will march toward Winterfell the next morning. Davos suggests waiting until Jon returns with the wildlings, but Stannis decides against it, as any delay improves the Boltons' chances. He also wants to take Selyse and Shireen with them, as he does not think they will be safe at the Wall, surrounded by criminals. The next morning, Stannis's army, with Stannis and Melisandre at its head, starts its journey to Winterfell.
In the North
Brienne of Tarth and Podrick Payne, still pursuing Sansa Stark, arrive at an inn near Winterfell. Podrick suggests that Sansa may be better off at Winterfell now that she is far away from the Lannisters, but Brienne believes that Sansa will not be safe around the people who murdered her mother and her brother - the Boltons. Their conversation is interrupted by a servant. Correctly assuming that he is still loyal to the Starks, Brienne tells of her allegiance to Catelyn and convinces the servant to get a message through to Sansa; her presence still being something of a secret, the old servant seems to gain strength from the idea of a surviving Stark.
In Winterfell, Ramsay Bolton and his bedwarmer Myranda discuss Ramsay's upcoming marriage to Sansa. Myranda admits her jealousy of Sansa, especially since Ramsay had promised to marry Myranda back when he was a bastard. Ramsay disregards Myranda's insecurities, causing her to proclaim that perhaps she will marry too. Ramsay is angered and violently tells her that she is his and she is not going anywhere. Further, she is starting to bore him with her jealously, and she knows what he does to people who bore him. Hearing this Myranda swears never to bore him again.
Meanwhile, Sansa's maid carries the message from Brienne to her. Consoling Sansa that she still has allies in the North, the old woman tells her to light a candle in the highest window of the Broken Tower if she ever needs help. As Sansa wanders around the castle, inspecting this tower where Jaime pushed Bran out of the window, she is approached by Myranda. Putting on a friendly façade, she talks to Sansa about her mother's demise. To help Sansa "remember" how things used to be, Myranda leads her down to the kennels, where she finds Reek, formerly Theon Greyjoy, asleep in one of the cages. Awoken by Sansa's arrival, he just shakes his head when Sansa calls him "Theon." He warns her that she shouldn't be down here. Seeing Reek in such a pitiful condition, Sansa angrily storms away.
As Reek helps Ramsay get ready for dinner, he confesses that earlier that day, Sansa saw him in his cage. Ramsay, for his own amusement, makes it seem as though he's going to punish Reek severely for not telling him earlier and without being asked, but then simply forgives him. At dinner, Ramsay is initially well-behaved, toasting his wedding to Sansa, but is soon back to his old ways as he forces Reek to apologize to Sansa for murdering her brothers Bran and Rickon. With much difficulty, Reek finally mutters an apology. Ramsay then suggests that Reek be the one to give Sansa away at the wedding, since he is the closest thing she has to kin now, and Roose Bolton distractedly accepts the suggestion. Seeing that Ramsay is getting complacent, however, Roose has his new wife Walda announce that she is pregnant with a boy. Ramsay is clearly distressed by the news, which in turn delights Sansa.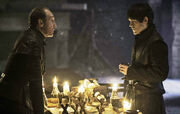 After dinner, Ramsay expresses his distress at the possibility of the unborn child jeopardizing his claim on the North. Roose reprimands his son for disgracing himself at dinner but seemingly dismisses his concern. He then shares the story of Ramsay's birth; Roose raped a miller's wife, who had married without his consent, after hanging her husband. A year later, she showed up with Ramsay, claiming that the baby was his. Roose nearly had her whipped and the baby drowned, but when Roose laid eyes upon Ramsay, he was convinced that he was his son and decided to keep him. He then reveals to Ramsay that Stannis has an army at Castle Black. Stannis plans to take the Iron Throne, and the road to King's Landing passes through Winterfell, which means that Stannis also intends to take the North. He wants Ramsay's help in defeating Stannis, and Ramsay agrees.
In Old Valyria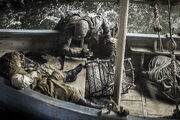 As Jorah and Tyrion continue their journey to Meereen, and following Jorah's violent reaction to a previous conversation, Tyrion tries to civilize their relationship and asks where they are. As Jorah stands up to look at the foggy ruins on the horizon, Tyrion deduces that they are going to pass through the remains of Old Valyria, a shorter route to Meereen and one which pirates will avoid because of Valyria's reputation. Tyrion is apprehensive, but still excited to see the ruins of what was once the greatest civilization in the world.
As they catch glimpses of domes, towers and aqueducts, Tyrion recites a poem about the Doom of Valyria, with Jorah joining in at the end. Suddenly, through the fog, they see Drogon fly into view. Although he had been hearing about the dragons for some time, Tyrion is still utterly gobsmacked to see one in person. Jorah is struck silent too, as Drogon is even bigger and more majestic than when he left. So distracted are they that they don't notice when the statues on a nearby aqueduct stand up and leap at the boat: they are Stone Men - victims of greyscale so far gone that they have been sent to live out the rest of their lives in quarantine in the ruins. Jorah tells Tyrion not to let them touch him and fights them off. However, as Tyrion is tied up, he is cornered at one end of the boat with a stone man advancing on him while Jorah battles more at the other end. Just before the stone man is able to grab him, Tyrion rolls off of the boat and into the water to escape, where he is then pulled down by more Stone Men under the water.
An undetermined amount of time later, Tyrion wakes up and finds himself on a shore, dragged out of the water by Jorah. After confirming to each other that they had not been touched by the Stone Men, Jorah tells Tyrion that he hopes to find a fishing village and get a boat soon, otherwise they'll have to walk all the way around Slaver's Bay to eventually reach Meereen. Tyrion seems up for it and Jorah goes to look for firewood so they can make camp. However, once out of Tyrion's view, he pulls back his sleeve to inspect the cracked skin on his wrist, confirming that he had been infected with greyscale during the fight with the Stone Men. He looks at Tyrion and then glances in the direction of Meereen, knowing that even if he dies, he needs to get Tyrion to Daenerys.
Appearances
Main article: Kill the Boy/Appearances
First
Deaths
Master Eaton
Several Stone Men
Cast
Cast notes
17 of 27 cast members for the fifth season appear in this episode.
Starring cast members Nikolaj Coster-Waldau (Jaime Lannister), Lena Headey (Cersei Lannister), Aidan Gillen (Petyr Baelish), Natalie Dormer (Margaery Tyrell), Indira Varma (Ellaria Sand), Maisie Williams (Arya Stark), Conleth Hill (Varys), Jerome Flynn (Bronn), Dean-Charles Chapman (Tommen Baratheon) and Tom Wlaschiha (Jaqen H'ghar) are not credited and do not appear.
Her absence in this episode marks the first ever time that Maisie Williams (Arya Stark) has not appeared for two consecutive episodes.
George Appleby, Richard Bradshaw, Dave Cronnelly, Clint Elvy, James Embree, Richard Hansen, Rowley Irlam, Paul Lowe, Leona McCarron, Camilla Naprous, Jason Oettle, Jan Petrina, Andy Pilgrim, Dominic Preece, Paul Shapcott, Ryan Stuart and Calvin Warrington-Heasman were stunt performers in this episode.
Notes
Gallery
Videos
Images
Quotes
Daenerys Targaryen: "Who is innocent? Maybe all of you are. Maybe none of you are. Maybe I should let the dragons decide."
---
Maester Aemon: "You will find little joy in your command. But, with luck, you'll find the strength to do what needs to be done. Kill the boy, Jon Snow. Winter is almost upon us. Kill the boy and let the man be born."
---
Ramsay Bolton: "You smell particularly ripe this evening. Pour me some wine. Do you have something to tell me?"

Theon Greyjoy: "No, my lord."
Ramsay: "Reek."
Theon: "She saw me."
Ramsay: "Who?"
Theon: "Sansa. Lady Sansa. She came to the kennels."
Ramsay: "She saw you?"
Theon: "Yes. I'm sorry, master. Forgive me. I didn't think..."
Ramsay: "Come here. You mustn't keep secrets from me, Reek. Get on your knees. Give me your hand." [Theon obediently gives Ramsay his hand, expecting to be punished.] "I forgive you."

---
Ramsay: "I heard you two had been reunited. A fitting place for it. I like to imagine the last time you spoke was in this very room. Are you still angry with him after he...what he did? Don't worry. The North remembers. I punished him for it. He's not Ironborn anymore. He's not Theon Greyjoy anymore. He's a new man. A new person anyway. Aren't you, Reek?"

Theon: "Yes Master."
Ramsay: "That's his new name. Reek."
Sansa Stark: "Why are you doing this?"
Ramsay: "Because Reek has something to say to you. Don't you, Reek? An apology? Apologize to Lady Sansa for what you did. Apologize for murdering her two brothers."
Theon: "I'm sorry."
Ramsay: "Look at her, Reek. An apology doesn't mean anything if you're not looking the person in the eye."
Theon: "I'm sorry."
Ramsay: "Sorry about what?"
Theon: "Killing your brothers."

---
[Ramsay takes a moment to relish the anguish of Sansa and Theon before suddenly throwing up his hands.]

Ramsay: "There! Over and done with it. Doesn't everyone feel better? I do." [Sansa wipes away a tear.] "That was getting very tense." [Theon walks away from the table in shame.] "You know what, my lady? What with him having murdered your brothers and the rest of your family gone, Reek here is the nearest thing to living kin that you have left. Reek! You will give away the bride." [Sansa turns to Ramsay in anger.] "Someone has to. What better person? Good?" [To Roose, who glares at his son.] "Good?"
Roose Bolton: "Yes, yes, very good."
Ramsay: "Wonderful!"
Roose: "Walda and I have some good news as well. Since we're all together."
Walda Bolton: "We're going to have a baby!"
[Ramsay's smile quickly fades.]
Sansa Stark: "Very happy for you."
Roose: "From the way she's carrying, Maester Wolkan says it looks like a boy."
[Ramsay takes a big gulp of wine and slams his goblet onto the table as Sansa looks at him and smirks.]

---
Ramsay: "How can you be sure?"

Roose: "Sure of what?"
Ramsay: "That she's pregnant. I mean...how can you tell?"
Roose: "Maester Wolkan has assured us beyond all doubt."
Ramsay: "So...how did you manage it?"
Roose: "Manage what?"
Ramsay: "Getting her pregnant."
Roose: "I imagine you're familiar with the procedure?"
Ramsay: "Of course but how did you...find it?"
Roose: "You disgraced yourself at dinner. Parading that creature before the Stark girl."
Ramsay: "And if it's a boy?"
Roose: "You're worried about your position?"
Ramsay: "My position is quite clear. I'm your son. Until a better alternative comes along."

---
Roose: "You've never asked me about your mother."

Ramsay: "Why would I? She had me, she died. And here we are."
Roose: "She was a peasant girl. Pretty in a common sort of way. She was a miller's wife. Apparently they had married without my knowledge or consent. So I had him hanged, and I took her beneath the tree where he was swaying. She fought me the whole time. She was lucky I didn't hang her too. A year later she came to my gates with a squalling baby in her arms. A baby she claimed was mine. I nearly had her whipped, and the child thrown in the river. But then I looked at you, and I saw then what I see now. You are my son." [As a visibly shaken Ramsay struggles to cope with this revelation, his father walks over to a map of the North.] "Stannis Baratheon has an army at Castle Black, but he won't stay for long. He wants the Iron Throne. He wants the Iron Throne, and the road to King's Landing comes right through Winterfell. He means to take the North. But the North is ours. It's yours and mine. Will you help me defeat him?"
Ramsay: "Yes."

In the books
The episode is adapted from the following chapters of A Storm of Swords:

Chapter 78, Samwell V: Stannis recognizes Sam as the one who killed the White Walker and the son of Randyll Tarly, who he considers an able soldier. Stannis recounts how Lord Randyll defeated Robert at Ashford, and says he would not expect such a man to have a son like Sam. Then, discussing how Sam managed to kill a White Walker, Sam tells the king what he has learnt about dragonglass as a weapon against the White Walkers. Stannis mentions there is obsidian in Dragonstone.

The episode is adapted from the following chapters of A Feast for Crows:

Chapter 5, Samwell I: Sam finds old records about dragonglass.
Chapter 35, Samwell IV: Upon learning about Daenerys' rule in Slaver's Bay from Sam, Aemon worries that she has no family to guide her, and laments that his old age and infirmity makes him useless to her.

The episode is adapted from the following chapters of A Dance with Dragons:

Chapter 7, Jon II: Aemon tells Jon that he will have little joy of his command, but he has the strength to do the things that must be done. He then warns that winter is almost upon them, and that Jon must "kill the boy and let the man be born". Sam finds old records about dragonglass.
Chapter 11, Daenerys II: After the Sons of the Harpy stage a coordinated attack on the Unsullied, Missandei grieves for her loved one, and Dany is furious.
Chapter 18, Tyrion V: While sailing through the ruins of an ancient city, Tyrion glimpses a flying creature with leathery wings in the fog. Later, under a ruined bridge, Tyrion's boat is attacked by Stone Men, and he is dragged down into the water.
Chapter 21, Jon V: Stannis and his army depart Castle Black and head towards Winterfell.
Chapter 22, Tyrion VI: Tyrion is saved from the Stone Men by his traveling companion.
Chapter 24, The Lost Lord: Tyrion's traveling companion is revealed to have been infected with Greyscale as a result of their fight with the Stone Men.
Chapter 32, Reek III: Roose Bolton informs Ramsay that Stannis is marching to meet them in battle at Winterfell. Roose looks back on how he met Ramsay's mother: he met the wife of a miller, who he hanged, and then he raped her. The woman showed up at the Dreadfort a year later with a baby; Roose would have had the woman whipped and the infant thrown down a well, but he saw the child had his eyes and knew it was truly his, so he decided to keep Ramsay alive. Roose suspects that, if he has a true-born son by Walda, Ramsay will murder him.
Chapter 33, Tyrion VIII: Tyrion and Jorah sail past Valyria. Tyrion reflects on the Doom of Valyria.
Chapter 36, Daenerys VI: Daenerys finally agrees to open the fighting pits, to stop the Harpies' attacks.
Chapter 37, The Prince of Winterfell: Reek is to give away Ramsay's bride in the wedding.
Chapter 39, Jon VIII: Jon discovers that thousands of wildlings have sought refuge in Hardhome, a ruined settlement Beyond the Wall. Jon fears for their lives, but many of his black brothers remain indifferent, so he reminds them that, if thousands of wildlings die beyond the Wall, they will rise up again as wights, swelling the White Walkers' army.
Chapter 40, Tyrion IX: Tyrion and Jorah's ship is damaged beyond repair.
Chapter 44, Jon IX: Jon plans to send a group of Night's Watch men in ships to Hardhome in order to bring the wildlings south of the Wall.
Chapter 53, Jon XI: Jon treats with Tormund, the new leader of the Free Folk, and agrees to let them settle south of the Wall. This is seen as a betrayal of Jon's vows by many in the Night's Watch, but Jon argues that he is sworn to defend all the realms of men, which includes the wildlings, and that he will use everything he has against the White Walkers.
Chapter 69, Jon XIII: Jon decides to lead the rescue mission to Hardhome.

The sixth novel, The Winds of Winter, remains unpublished, so there are some events brought forward from it that may occur in the story, yet the specific chapters are unknown. This may include the death of Barristan Selmy, who was last seen about to enter battle; and Sansa's wedding and her return to Winterfell, both of which are also part of Littlefinger's plan in the books but have not happened yet.
See also
References