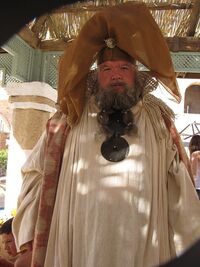 Ian McNeice (born 2 October 1950) is a British actor. He first came to attention as Harcourt in the iconic 1980s BBC miniseries Edge of Darkness. Amongst his many other roles are the Baron Vladimir Harkonnen in the miniseries Dune and its sequel, Children of Dune, the newsreader/town crier in HBO's Rome and as a doctor in From Hell. He has also played the role of Winston Churchill several times, including three times during the 2010 season of Doctor Who.
In Game of Thrones McNeice played the role of Illyrio Mopatis in the unaired pilot episode. He was confirmed in the role on 20 October 2009. On 16 September 2010 it was confirmed that McNeice could not reprise the role in the series itself due to a scheduling conflict that could not be resolved. He was replaced by Roger Allam.
See also
Community content is available under
CC-BY-SA
unless otherwise noted.