Doctor Strange in The Multiverse o Madness - The Loop
Play Sound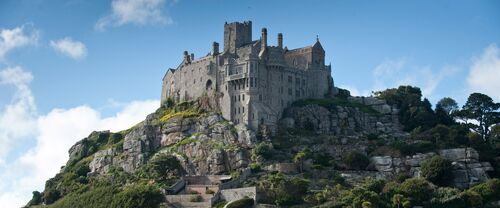 Overview
House of the Dragon will have its main production headquarters at Warner Bros Leavesden Studios in Watford, England. This is presumably where all their interior sets will be constructed and filmed.[1]
England
Cornwall
Filming for Season 1 began in late April 2021, beginning with a two week shoot in Cornwall in the southwest corner of England. Extensive filming was done at St. Michael's Mount, an island castle believed to be depicting Driftmark, the ancestral seat of House Velaryon.[2] Several scenes were also filmed at scenic Holywell Beach, including ones used in the first promo images for Daemon Targaryen and adult Rhaenyra Targaryen.
Filming returned to Cornwall for the second full week of September 2021, from September 13-17 (after filming in Derbyshire the week before). Filming returned to Holywell Beach, including scenes featuring young Rhaenyra and young Laenor Velaryon, and battle scenes believed to be set in the Stepstones.[3] Filming also expanded to film at Kynance Cove, a beach with rock formations which is farther east along the southern coast from St. Michael's Mount. An extensive Velaryon army camp in the Stepstones was constructed at Kynance Cove.
Derbyshire
After the first Cornwall shoot ended in mid-May 2021, exterior filming resumed the first week of September in Derbyshire, in northern England. Spy reports revealed that filming was taking place in the Peak District, the southern end of the Pennine mountain chain, located roughly between Manchester and Sheffield. Matt Smith was spotted in costume, then a large spy report in the DailyMail showed photos of Graham McTavish, Emily Carey, and Milly Alcock in full costume.[4]
Surrey
The third week of September 2021, filming shifted from Cornwall to Surrey, southwest of London. A large tournament set was built outside of Aldershot.
Spain and Portugal
Cáceres, Spain[5] - a returning location from Game of Thrones Season 7, which was used for the streets of King's Landing and Oldtown. According to reports, a dozen different locations in the city will be extensively used to represent the streets of King's Landing.
Trujillo, Spain[6] - A short drive east from Cáceres. Also a returning location from Game of Thrones Season 7, in which the old Arab castle was used for landward side of the city walls of King's Landing when Jaime and Bronn are standing atop them looking at Daenerys's army arrive.
Monsanto, Portugal - a short drive west from Cáceres, Spain. Home to a famous mountain-top medieval castle, now in ruins.[7]
References