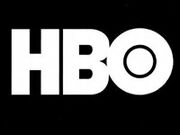 HBO
(Home Box Office) is an American television premium cable company with approximately 40 million subscribers in the United States. It is owned by the media conglomerate
WarnerMedia
.
It was launched in 1972 to transmit films and sporting events in the New York area, and expanded slowly to cover much of the country by the late 1990s. In 1997 HBO began transmitting its first original, one-hour drama series, Oz, which was followed by The Sopranos in 1999, both critically acclaimed. The Sopranos went on to win 21 Emmy Awards. Over the next decade HBO went on to produce a number of commercially and critically-successful television series and mini-series, including Sex and the City, Band of Brothers, Six Feet Under, Deadwood, Curb Your Enthusiasm, Rome, The Wire, Entourage, True Blood, The Pacific and Treme.
HBO bought an option on the television rights to George R.R. Martin's novel series A Song of Ice and Fire in January 2007, with David Benioff and D.B. Weiss attached as showrunners. Development of the project and the writing of a pilot script was delayed due to the Writer's Guild of America strike in late 2007. HBO exercised its option to buy the television rights in September 2008 and ordered a pilot in November of that year, which was produced in October-November 2009. After viewing the pilot, HBO ordered a full season of 10 episodes in March 2010, with a view to begin airing the series in Spring 2011.
Before the conclusion of Game of Thrones, HBO ordered a pilot for a prequel with the working title Bloodmoon. After the original series concluded, HBO passed on the pilot and ordered another prequel, House of the Dragon, to series instead.
External links
Community content is available under
CC-BY-SA
unless otherwise noted.