Doctor Strange in The Multiverse o Madness - The Loop
Play Sound
SPOILER WARNING

This article includes content relating to the Dance of the Dragons, and therefore contains potential spoilers for House of the Dragon, as revealed in GRRM's writings. Anyone wishing to remain completely spoiler free for the new show should avoid any articles displaying this tag.
The Great Council at Harrenhal was convened to determine the heir to the Iron Throne in the final years of old King Jaehaerys I Targaryen, grandson of Aegon the Conqueror. Jaehaerys outlived both of his sons, leading to a succession crisis. To avoid a civil war, an unprecedented council was held at Harrenhal in which every lord of Westeros, great or small, convened to decide the succession between Jaehaerys's grandchildren.
Princess Rhaenys, only child of Jaehaerys's first son, was passed over due to her sex, but she pressed the claim of her son Laenor Velaryon through her. Instead, the assembled lords of the realm heavily favored her first cousin Prince Viserys, the son of Jaehaerys's second son, because of his unbroken male line. Viserys won the final vote by a wide margin, and was declared the new official heir. A few years later Jaehaerys finally passed away, and Viserys became the new king.[1]
Family tree
King Jaehaerys I Targaryen, grandson of Aegon the Conqueror, had two sons who had children of their own: Aemon and Baelon.
Aemon had one child, his daughter Rhaenys - while Baelon had two children, his sons Viserys and Daemon (Viserys also had one child at the time, his daughter Rhaenyra).
By traditional inheritance law of primogeniture - male-preference or gender-blind - Rhaenys should have been the heir. By male-preference primogeniture her claim would then pass to her son Laenor (her second child, after daughter Laena).
Instead, Rhaenys's first cousin Viserys claimed the throne based on "male proximity", with an unbroken male line (which is not a "traditional" inheritance law practiced by any group in Westeros).

(Note: Until Fandom Mobile updates are completed, family tree templates do not display well on mobile device browsers. If you can't see the chart, switch to a desktop browser)
In the books
The Great Council of 101 AC was held after the sudden death of King Jaehaerys I's second son and current heir, Baelon Targaryen, from a burst appendix. It was held at the enormous, half-ruined castle Harrenhal because it was the only location big enough to fit such a large and unprecedented gathering of all the lords in Westeros.
Jaehaerys's two eldest sons predeceased him, Aemon in 92 AC and Baelon in 101 AC, though both had children of their own (Jaehaerys had nine adult children in all but the others died young or were childless). Aemon and his wife Jocelyn Baratheon (sister of Boremund Baratheon) produced a single child, their daughter Rhaenys. Baelon and his sister-wife Alyssa had produced two surviving children: elder son Viserys and younger son Daemon. Jaehaerys's younger daughter Daella did produce a fourth grandchild, Aemma Arryn, but she was already married to her cousin Viserys.
Aemon had been the acknowledged crown prince for years, but in 92 AC he died in a small skirmish with Myrish pirates from a crossbow bolt to the neck. According to the traditional inheritance law of primogeniture in Westeros, Rhaenys should have inherited her father's position as heir to the throne - but instead, Jaehaerys controversially named his second son Baelon as Prince of Dragonstone (the traditional title held by the official heir to the throne). Baelon had been his brother's great companion and avenged him by burning out the remaining pirates, and he had sat in on his father's small council with his brother for several years. He was brave, experienced, and very popular with the common folk as well. In contrast, Rhaenys was an 18 year old woman, only recently married to Lord Corlys Velaryon two years before, and pregnant with her first child. Rhaenys argued that even if she was to be passed over on account of her sex, her unborn son was being cheated out of his inheritance. Months after the decision was made, it turned out that Rhaenys gave birth to a daughter, Laena Velaryon, though she later also produced a son, Laenor Velaryon.
Jaehaerys's exact reasons for passing over Rhaenys and her child were not stated. It's possible he feared naming an infant boy as heir would leave the throne in a precarious position if he suddenly died, as he was already an old man. Others suspect that Jaehaerys feared being called a hypocrite, as he himself had claimed the throne ahead of his deceased older brother's daughters. In the chaotic aftermath of the death of his uncle Maegor the Cruel, a despotic tyrant, more were concerned about restoring stability by putting the teenaged, level-headed Jaehaerys on the throne than on pressing the claims of his older brother's infant girls. Whatever the case, the Baratheons and Velaryons did not have much support to protest the decision in 92 AC, though Corlys Velaryon resigned in protest from his office as Master of Ships and left the small council.
Baelon's sudden death in 101 AC, however, opened the issue again. Jaehaerys was now a very frail old man and Baelon was no longer there to support him. Corlys Velaryon started gathering his fleets for war, and Viserys's hotheaded younger brother Daemon hired up companies of sellswords to press his brother's claims. Fearing a civil war, Jaehaerys proposed a compromise: all the lords of Westeros, great or small, would gather together in a council and hold a vote on the succession. Everyone who held lordly rank was gathered: not just the Great Houses such as the Starks and Tyrells, or their major vassals such as the Umbers or Tarlys, but even the third-tier minor vassals beneath them. Each of the "Seven Kingdoms" has roughly a dozen or so major lords, each with a dozen or so minor vassals beneath them, thus somewhat over one thousand "lords" of all ranks gathered in the great hall of Harrenhal to debate the succession and hold several rounds of voting. The High Septon came to bless the assembly, and representatives of the Conclave of the Maesters came from Oldtown came as well. Even the Prince of Dorne, which was still independent, sent his daughter as a neutral observer, along with twenty Dornish knights as escort.
No less than 14 claimants were considered, though several were bastards, frauds, or minor cousins and quickly dismissed. The council soon narrowed down to a question of Rhaenys's bloodline versus Viserys's bloodline. Traditional inheritance law of the Andals in Westeros followed "male-preference primogeniture" - which still meant that a lord's daughter is heir before that lord's own younger brother. The Rhoynar in Dorne, which was still independent, were the only ones to follow "gender-blind primogeniture". In neither system should Rhaenys's uncle Baelon have been named heir ahead of her. Viserys, in contrast, claimed the throne based on "male proximity" - unlike Rhaenys, he was Jaehaerys's grandson through an unbroken father-to-son male line - a form of inheritance that no group in Westeros actually used. Nonetheless, Viserys was by far the candidate with the most support - not due to any legal precedent, but simply due to the biases of the assembled nobles, combined with how many could be bought off one way or the other with political favors.
Under either form of primogeniture, Rhaenys should have been heir. If the gender-blind primogeniture of the Dornish was followed, her daughter and eldest child Laena Velaryon would be heir, but according to traditional Andal male-preference primogeniture, her son and younger child Laenor Velaryon would be rightful heir. The council quickly dismissed the claims of Laena and even Rhaenys herself on account of their sex, but the Velaryons still pressed that if having a male heir was so important, the line of succession could at least continue through a woman to her son.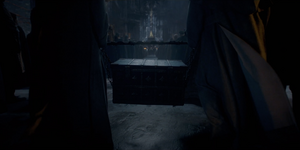 The final vote came down to Laenor versus Viserys. Of these two candidates, primogeniture favored Laenor, but unbroken "male proximity" favored Viserys. A point against Laenor was that he was only a 7 year old boy, while Viserys was a 24 year old man: his marriage to his cousin Aemma had also proven to be fruitful, producing his 4 year old daughter Rhaenyra, with sons sure to eventually follow and continue his line. Laenor's cause was aided by the considerable wealth of his father Corlys, the richest man in Westeros, who bestowed generous gifts on other lords to say their votes. The vassal Houses of the isles in the Narrow Sea that have close ties to the Velaryons on Driftmark supported them as well, such as House Celtigar and House Bar Emmon. Boremund Baratheon again supported the Velaryon claim, as he was Rhaenys's maternal uncle. House Stark, which had stood aloof from royal politics since the Iron Throne was forged a century before, surprisingly supported Laenor's claim: later historians believe they were still bitter with Jaehaerys over the forced land donation of the New Gift to the Night's Watch, so they voted against his preferred candidate.
In the end, however, the vote wasn't even close: while it was a secret ballot, it was rumored that Viserys won by a factor of about twenty to one. Beyond mere numbers, none of the other Great Houses besides the Baratheons and the Starks voted for Laenor. While Rhaenys and the Velaryons were upset, they had agreed to abide by the vote of the Great Council, and Viserys's victory in the final tally was so great as to be beyond dispute. The Velaryons withdrew to their seat on Driftmark, and despite their power and wealth were estranged from Viserys's new royal court.
Jaehaerys honored the vote of the council and officially named Viserys as the new Prince of Dragonstone and royal heir. Baelon had also served as his father's Hand of the King, so Jaehaerys appointed Otto Hightower to fill his place in that office. Otto brought his precocious daughter Alicent Hightower to the royal court with him. Devastated by the death of his second son, as well as the death of his beloved wife the year before, Jaehaerys's health rapidly declined and he remained largely bedridden during the subsequent two uneventful years before his death in 103 AC. He had held the Iron Throne for 55 years, the longest reign of any monarch before or since.
Viserys was crowned as king, and held a lavish Tournament for the realm to celebrate. All that remained for Viserys was for he and his wife Aemma to produce a male heir...
See also
References