We're Getting Mutants in the MCU - The Loop
Play Sound
HBO is developing multiple successor projects to follow the main Game of Thrones TV series.
The first wave of successors were initially pitched in 2016, and publicly announced as potential projects in May 2017. A second wave of successor pitches was announced in early 2021. David Benioff and D.B. Weiss will not return to write for subsequent projects. George R.R. Martin is returning as a consultant with HBO on these future projects.
Martin has insisted that these upcoming projects be called "successor shows" but not "spinoffs", explaining:
"For what it's worth, I don't especially like the term 'spinoff,' and I don't think it really applies to these new projects. What we're talking about are new stories set in the 'secondary universe' (to borrow Tolkien's term) of Westeros and the world beyond, the world I created for A Song of Ice and Fire. It is a world, and a pretty big one, and if there were eight million stories in the naked city back in the 50s, just think how many more there are in an entire world, and one with thousands of years of recorded history...Rather than 'spinoff' or 'prequel,' however, I prefer the term 'successor show.' That's what I've been calling them."[1]
On October 29, 2019, HBO officially ordered House of the Dragon, a prequel set 200 years before the events of the main show.
House of the Dragon (2022)
Main article: House of the Dragon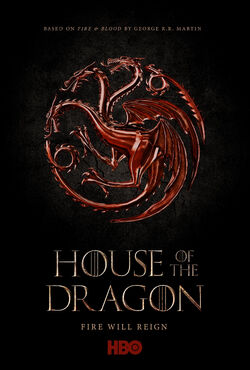 As of March 2022, House of the Dragon, the first major prequel to Game of Thrones, is in post-production. Its first season will air on August 21, 2022.
House of the Dragon will cover the story of the Dance of the Dragons, a great civil war between two rival branches of House Targaryen that occurred 170 years before Game of Thrones. The TV series will show the years leading up to the war under the reign of Viserys I Targaryen, as the two rival factions developed at the royal court, thus the first season will begin closer to 200 years before Game of Thrones.[2]
Ryan Condal and Miguel Sapochnik will serve as showrunners and executive producers. George R.R. Martin, Vince Gerardis, Sara Hess, and Ron Schmidt will also serve as executive producers, with Greg Yaitanes as co-executive producer.[2]
It received a 10-episode straight-to-series order. Miguel Sapochnik will direct the pilot and additional episodes. Filming on its first season began in late March 2021 and wrapped in mid-February 2022.[3]
A second season is reportedly in development.[4]
Currently active live-action successor pitches
Currently, HBO is considering four potential live-action successors (3 prequels and 1 sequel), all of which have advanced from the pitch phase to the pilot script phase as of March 2022. There is no guarantee yet that any of them will be greenlit to film a pilot or to full series, though George R.R. Martin said that progress is going well:[5]
Currently active animated successor pitches
As of summer 2021, HBO is considering three separate animated successor pitches:
The Golden Empire - About the Golden Empire of Yi Ti, located east of Qarth in the Jade Sea, Yi Ti is essentially the Game of Thrones equivalent of Imperial China. It doesn't appear in the main novels but has a chapter devoted to it in The World of Ice & Fire sourcebook. In March 2022, George R.R. Martin said that a writer is attached and he is reviewing concept art with them, though the project hasn't been officially greenlit yet.[10]
2 other, as-yet-unknown animated successor pitches (possibly the Summer Islands)

In March 2021, it was reported that Vince Gerardis was developing a project with the working title A Song of Ice and Fire. If it is one of the successor pitches, it is most likely an animated series as all four live-action projects have already been revealed. Winter Is Coming speculated that this project may be an animated adaptation of the books.[11] It may also simply be a working title for the Broadway play about the Great Tourney at Harrenhal, the "Ice and Fire" referring to Lyanna Stark and Rhaegar Targaryen (see below), though it is unknown if Gerardis is involved with that play.
Other projects
In March 2021, it was reported that George R.R. Martin was developing a live stage play for Broadway, about the Great Tourney at Harrenhal that preceded Robert's Rebellion. It is written by Martin alongside Duncan MacMillan, produced by Simon Painter and Tim Lawson in association with Kilburn Live, and directed by Dominic Cooke. It is expected to premiere sometime in 2023.[12]
Canceled and paused successor pitches
Bloodmoon - a prequel about the Long Night, set in the distant past 8,000 years ago. This was the first prequel pitch that HBO ordered, ahead of several other pitches. Martin has stated he never wanted to actually set a prequel narrative during this era, so it wasn't based on any prior prequel novellas, and had barely a few sentences of source material to draw on. HBO canceled the project soon after seeing the first rough cut of the pilot in October 2019, when it was vaguely admitted that the project had a troubled development which was marred by "creative differences" since its beginning. Due to the multiple shifts in HBO leadership since then, and Martin himself not pushing for it, it does not appear there will be another attempt to develop a new project set in this prequel era.
Doom of Valyria - In July 2018, an extensive report leaked to Game of Thrones Wiki itself that Max Borenstein's prequel pitch covered the Doom of Valyria. Titled Empire of Ash, it would chronicle the decline and fall of the Valyrian Freehold, ending with its volcanic destruction and the escape of the Targaryens to Westeros with the last dragons. After Bloodmoon was canceled, in November 2019 linguist David J. Peterson admitted that the three prequel pitches which advanced far enough to have their own writing staffs and series bibles were Bloodmoon, House of the Dragon, and a show about "Old Valyria". Screenwriter Max Borenstein later admitted in 2021 that his prequel pitch was very developed and had a series bible, indirectly admitting that his project was in fact the Valyria prequel. While HBO ultimately passed on Borenstein's prequel, there have been multiple changes in leadership since then, and Borenstein said that given the amount of time and effort he devoted into the project he still wants to make it, and hopes that HBO's new leadership will reconsider it at some point in the future.
Targaryen Conquest - A prequel about Aegon the Conqueror was being developed by

Rand Ravich

and

Far Shariat

before it was ultimately rejected. The pilot script portrayed Aegon as a drunken lout.[13]
"The fifth prequel" - HBO originally ordered five different prequel pitches in March 2017, and Peterson later admitted that the three which actually advanced to having scripts were the Long Night, Dance of the Dragons, and Doom of Valyria prequels. Peterson also remarked that he had no idea what the fourth and fifth pitches were, nor did anyone he ever worked with - they apparently didn't advance beyond the initial pitch phase and were never extensively developed. Based on Martin's own comments, the fourth pitch was probably the Targaryen Conquest. The identity of the fifth prequel pitch is still unknown. In spring 2021 a second wave of four different live-action prequel pitches were made, and it is possible that the "fifth" pitch was simply recycled into the second wave - or it may have been an entirely different idea that was dropped altogether.
Flea Bottom - among the new prequel pitches revealed in spring 2021, one was described as being set in Flea Bottom, the worst slum district in King's Landing. No writers were formally attached and the actual nature of the show was unknown: whether it would be set during a specific time period or an anthology. It might have been intended as a tie-in to House of the Dragon, as in his youth Daemon Targaryen was commander of the City Watch and used it to take over the criminal underworld in the slum district. The project was quietly dropped by summer 2021, with leaks noting that it was only a "nascent" idea that did not advance much in development.
History
2017-2018: The War of the Five Pitches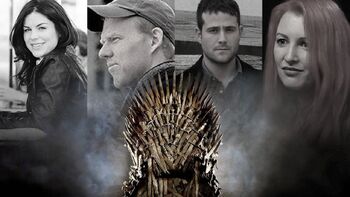 On May 4, 2017, HBO announced it had ordered pitch scripts for four separate Game of Thrones prequel projects (after negotiations which had privately begun in 2016). While the identity of each prequel was not revealed, the four potential showrunners were announced as: Jane Goldman, Max Borenstein, Brian Helgeland, and Carly Wray[14] George R.R. Martin subsequently made an extensive post on his personal blog about the announcement.[15] Martin confirmed that while at the time, HBO announced only four prequel pitches, a fifth had also just been presented, but for some reason wasn't included in HBO's announcement. It was only confirmed four months later, on September 20, that the fifth prequel pitch was being developed by Bryan Cogman.[16]
Martin explained in his blog that he first discussed making prequel series with HBO in August 2016 (after Season 6 of the main series finished airing). At the time, he pitched two prequel ideas: one of these continued as one of the announced set of five ideas (it is unclear which one), while the other sixth idea was rejected and never made it that far.[17]
Martin also gave two other brief pieces of information, confirming that none of the ideas being pitched is a sequel to the main series (considering that the main novels aren't even finished yet) but prequels, and will not include any living characters from the main series. Moreover, he officially ruled out a few prequel ideas (see below). As Martin said:
"Every one of the concepts under discussion is a prequel, rather than a sequel. Some may not even be set on Westeros. Rather than 'spinoff' or 'prequel,' however, I prefer the term 'successor show.' That's what I've been calling them."[18]
Jane Goldman and Carly Wray's projects both had George R.R. Martin himself attached as a co-producer, though he also had ongoing story discussions with every showrunner:
"It was stated in some of the reports that I am working with two of the four writers. That's not quite right. I've actually been working with all four of the writers. Every one of the four has visited me here in Santa Fe, some of them more than once, and we've spent days together discussing their ideas, the history of Westeros and the world beyond, and sundry details found only in 'The World of Ice & Fire' and 'The Lands of Ice & Fire'...They are all amazing talents, and I am excited to be working with them. In between visits, I've been in touch with them by phone, text, and email, and I expect there will be a lot more back-and-forth as we move forward."[19]
2018-2019: The rise and fall of Bloodmoon, the Long Night prequel
Main article: Bloodmoon
On June 8, 2018, HBO announced that it has ordered a live-action pilot episode for Jane Goldman's prequel pitch, and revealed its identity: it was about the Age of Heroes and the Long Night that occurred during it, when the White Walkers first appeared and nearly destroyed the world. On June 11, 2018, George R.R. Martin made a post on his personal blog to congratulate Goldman, and give an update on the current status of the prequels. Martin confirmed that by this point one of the other five pitches had been officially rejected, but the remaining three were still being considered.[20]
On October 30, HBO made its first casting announcement for the project, revealing that Naomi Watts would play the lead character.[21] Two large waves of casting announcements followed: one on January 8, 2019, and a second in March 2019.[22] Throughout these casting announcements, HBO gave no character descriptions or even the names of the characters the cast were playing - as it wasn't adapting a previous prequel novella, and Martin hadn't intended to develop prequel stories during this era in the distant past. Therefore it is unknown what the specific story of this pilot was actually going to be like.
Filming on the pilot took place during summer 2019, with principal shooting beginning around late May (just as the final season of Game of Thrones was airing) and wrapping up in August. Leaked production photos during this time revealed that the pilot was named "Bloodmoon", which was later confirmed to be the tentative name for the overall Long Night prequel project. A rough cut of the pilot was delivered to HBO in September - which then immediately requested that it be re-edited. This apparently wasn't enough to fix it, as soon afterwards on October 29, 2019, HBO confirmed that the prequel was formally canceled. Given the large investment of time and money into the project, its cancelation came as a shock - up until that point HBO had been treating it as the flagship title for Game of Thrones spinoffs, with the other prequel pitches on hold.[23] While the exact details remain unknown, the pilot episode was apparently so disastrously bad that on seeing the rough cut HBO decided it was worth cutting their losses. The only word about it from official news sources was a report the next day in TVLine, citing anonymous insiders:
"According to multiple insiders, the pilot was 'troubled' from the start, marred by budget overruns, numerous personnel issues, and myriad creative differences." [24]
What might have been another major factor in the Long Night prequel's cancelation was the major shift in HBO leadership at the time, due to the acquisition of HBO's parent company Time Warner by AT&T in June 2018, who renamed it "WarnerMedia". The same executives who were in charge during CEO Richard Plepler's long tenure as head of HBO (a position he held since 2007) were subsequently superseded by their new superiors at AT&T, who may have disagreed with several of their decisions. Indeed, greenlighting the Long Night prequel was one of Plepler's last major decisions before the AT&T acquisition, yet he then left HBO altogether on February 28, 2019 - only a few weeks before the Long Night pilot began filming. This leaves the open question of whether Plepler ever intended to actually oversee an ongoing Long Night TV series, and separately, whether Plepler left in part because he didn't want to deal with the inevitable backlash to a "troubled" project which had been marred by "creative differences" since early in its scripting phase. Whatever the case, seven months after Plepler's departure, the new executives at AT&T and HBO were more willing to cancel the Long Night prequel project that he had greenlit.[25]
2019-2021: House of the Dragon, AT&T era
Hours after HBO announced the cancelation of the Long Night prequel, it released another announcement that it would instead be developing a different prequel titled House of the Dragon, about the Targaryen civil war known as the Dance of the Dragons which took place almost two hundred years before Game of Thrones. Unlike the Long Night prequel, the Dance of the Dragons already had extensive prequel novellas to draw from as source material to adapt. HBO also announced that it was foregoing a pilot episode, instead directly greenlighting House of the Dragon for a ten episode first season.
Ironically, none of the five potential prequel showrunners initially announced in May 2017 ultimately made the first prequel to air. While a "Dance of the Dragons prequel" was in fact one of the initial five pitches, it had been assigned to Bryan Cogman - who then left HBO in October 2018 to sign an exclusive five-year development deal with Amazon.[26] Cogman explained in a May 2019 interview with Vanity Fair that he had to divide so much of his attention between his prequel pitch writeup and his work on Season 8 of Game of Thrones itself that even he felt his take on the subject wasn't as strong as it could have been. Retroactively, this explains why Cogman's pitch was the last of the original five to be finalized, a full four months after all the other pitches were announced as a group - he was struggling to schedule his obligations between it and Season 8.[27]
Two weeks after House of the Dragon was announced, Deadline broke the news that new showrunner Ryan Condal would be leading the project, along with veteran director Miguel Sapochnik as co-executive producer. The report also confirmed that Condal wasn't simply taking over Cogman's old pitch, but starting over again from scratch. Condal and Cogman reiterated in several subsequent interviews that nothing from Cogman's original pitch treatment was re-used for House of the Dragon, rather Condal's new team started over again with only the same basic idea to make "a prequel about the Dance of the Dragons".[28]
Therefore, from a strict technical standpoint, none of the original five pitches "won" the competition between them, because House of the Dragon isn't the pitch package that Bryan Cogman submitted in 2017 alongside the other four. There was "a" Dance of the Dragons prequel pitched at the time, but House of the Dragon is a do-over made by a completely different team of writers. In this respect the "War of the Five Pitches", as fans dubbed it in 2017, ironically ended much as the actual War of the Five Kings did: in exhaustion, with none of the original faction leaders surviving to claim victory.
As for the identities of the remaining pitches, in July 2018 there was a major leak that Max Borenstein's pitch was a Doom of Valyria prequel, titled "Empire of Ash". Among the details from the leak:[29]
The series would be based on extensive notes and discussions with George R.R. Martin.
It already had a full story bible, and a "season bible" for its first season - a 200 page scene by scene breakdown.
It was outlined to be a full flagship series, running between five to seven seasons.
It would focus on the decline of Valyria in the generation leading up to the Doom, in a series of civil wars mirroring the decline of the Roman Republic.
Major factions vying for power in Valyria would be "The Sphinxes", the "Young Dragons", and the "Free Holders".
It would show the origins of House Targaryen: Aenar the Exile and his daughter Daenys the Dreamer would be in it.
In May 2019, George R.R. Martin made another blog update in which he confirmed that one of the four remaining prequel pitches had also been rejected - but he reiterated that besides the Long Night prequel (which had just begun filming its pilot) there were still two other active pitches which were relatively well-developed (one of these two turned out to be House of the Dragon):
"Oh, and speaking of television, don't believe everything you read. Internet reports are notoriously unreliable. We have had five different GAME OF THRONES successor shows in development (I mislike the term 'spinoffs') at HBO, and three of them are still moving forward nicely. The one I am not supposed to call THE LONG NIGHT will be shooting later this year, and two other shows remain in the script stage, but are edging closer. What are they about? I cannot say. But maybe some of you should pick up a copy of FIRE & BLOOD and come up with your own theories."[30]
Soon after these announcements at the end of October, David J. Peterson subsequently gave an interview on November 12, 2019, with the longrunning podcast series Game of Owns, in which he gave confirmation on several key details:[31]
Peterson confirmed that the title of the Long Night prequel actually was "Bloodmoon", which had previously been revealed through spy photos of production sheets but never confirmed by HBO. Peterson cautioned, however, that it was only a placeholder/working title, because strictly speaking a TV series title is only "official" when it is formally announced, but HBO never officially gave this project any public title - and now that it's been canceled, it never will. Peterson briefly said he saw "several" names being used for the project at one time or another, either "The Long Night", "The Age of Heroes", or "Bloodmoon". Nonetheless "Bloodmoon" is the only title that was ever seen in official logos on paperwork from spy reports.
Peterson confirmed that the third prequel was about "Old Valyria". He had been hired to work on it, expanding the Valyrian language work he did on Game of Thrones, but the project was put on hold.
Peterson stated that the three prequel pitches that were still active by May 2019 (as cited by Martin) were the Long Night (Bloodmoon), the Dance of the Dragons (House of the Dragon), and Old Valyria. Peterson stated that all three had advanced to the point that they had screenwriters and series bibles. As for the fourth and fifth prequel pitches, which by that point had been officially rejected, Peterson said he had no idea what they were about - moreover, none of the other producers he works with had any idea what they were about either. Thus both of those ideas were apparently dropped very early in the pitch phase, possibly before they even had pilot scripts.
On April 3, 2021, Max Borenstein gave an interview with Collider for his new Godzilla vs. Kong movie, in which he was asked about his prequel pitch. Borenstein said that given the large amount of work he put into the pitch he still wanted to make it someday, and given the recent leadership changes at HBO's parent company combined with their recent expansion with a second wave of prequel pitches, he remained hopeful:
"I had an amazing experience with it. We did a tremendous amount of work, I'm really proud of it. And maybe one day it'll have its moment, that's my hope for it...Right now, they're really developing a lot of projects in that world, and I'm doing a different show at the network [about the LA Lakers] that I'm deeply in love with. I am also really in love with that project and would to love to one day be able to do it, so we'll see. It was very developed in terms of the world and the story bible. There was a script, and there were outlines. We had a title, we had a lot of stuff...It's definitely in their court as to what could theoretically get released."[32]
Given that David J. Peterson had confirmed that the three prequel pitches which advanced to the point they had story bibles were the Long Night (now canceled), the Dance of the Dragons (greenlit as House of the Dragon), and "Old Valyria", Borenstein's admission that his pitch was very developed to the point it had a story bible indirectly confirmed that the Old Valyria prequel was in fact his prequel pitch. This lends some credence to the earlier leaks from July 2018 that Borenstein was working on a Doom of Valyria prequel titled "Empire of Ash", though of course it doesn't confirm the more specific details from that leak.
Leading up to the release of Martin's Fire & Blood on November 20, 2018, Martin admitted that "at least two" of the remaining four prequel pitches were directly based on material in it. Fire & Blood is an outgrowth of The World of Ice & Fire sourcebook, an in-universe history book about the first half of the Targaryen dynasty's reign, starting with Aegon I and ending with Aegon III.[33] Given that the two major narratives in Fire & Blood are the Targaryen Conquest and the Dance of the Dragons, by process of elimination, the fourth major pitch was probably about the Targaryen Conquest. The identity of the fifth prequel, which was also rejected early on, remains unknown.
2021-2022: Second wave of pitches, Warner Bros. Discovery era
In spring 2021, it was reported that HBO was considering several new prequel pitches, both live-action and animated. Unlike the first wave of prequel pitches, which were formally announced by HBO itself in one big burst, these new pitches were first learned about in a series of insider leaks posted in major TV industry news sites, which were spread out from late January to late May 2021.
On January 21, 2021, Variety reported that HBO was considering a live-action Tales of Dunk and Egg project. This is intriguing given that Martin said he didn't want to start an adaptation of it until after the prequel novella series is finished: so far only three out of a planned twelve installments were completed. On the other hand there are time skips between novellas on a scale of years, so it's possible that HBO is just considering an adaptation of the first three novellas before going on break.[34] Hours after Variety broke this news, Entertainment Weekly's James Hibberd responded with his own leak, that a live-action Robert's Rebellion prequel was being considered.[35] A few days later on January 27, The Hollywood Reporter put out another leak that HBO was considering an adult-oriented animated project, to compete with the recently announced burst of Star Wars and Marvel animated projects by Disney.[36]
Two months later on March 18, an extensive new leak report came out in Deadline, claiming that three entirely new live-action prequel pitches were being considered: Nymeria and the 10,000 ships of the Rhoynar, the 9 Voyages of Corlys Velaryon, and one about Flea Bottom. Corlys Velaryon appears in House of the Dragon so this would be a direct tie-in to the first major prequel series (basically a "Young Corlys" show). Moreover, Deadline reported that Bruno Heller (former showrunner of HBO's Rome) was attached to the 9 Voyages series. No further details were given for the pitch about "Flea Bottom" - the worst slum district in King's Landing - such as whether it was set in a specific time period or was an anthology. Given that in his youth Daemon Targaryen was commander of the City Watch and essentially took over the city's underbelly and was called "Lord Flea Bottom", this might have been another House of the Dragon tie-in, focusing on Young Daemon, but no specific details were given.[37]
Two weeks later on March 30, George R.R. Martin himself publicly announced that he was developing another prequel, not for television or animation, but as a Broadway stage-play: the story of the Great Tourney at Harrenhal, the opening event that set Robert's Rebellion in motion. Martin also promised that the stage play would reveal secrets about what really happened at the Tourney that have never been revealed in the current novels (such as the true details about how Jon Snow's parents Rhaegar Targaryen and Lyanna Stark met and fell in love). The production company had already been hired, and Martin stated that it was set for a 2023 premiere.[38]
About a month later on April 22, James Hibberd stated that the Robert's Rebellion prequel project turned out to be the Harrenhal stage play. Martin promised that the stage play will contain new information about how the rebellion started.[39]
One month later on May 25, two months after the leak first came that a Nymeria pitch was being considered, Deadline posted a new update that screenwriter Amanda Segel had been hired to write a pilot script for it. This of course did not mean that a 10,000 Ships prequel had been "greenlit" to series, nor that a pilot had been greenlit yet, but that it had advanced through the production process from the initial pitch phase to the point that a screenwriter had been officially hired to write a formal pilot script.[40]
Subsequently on July 16, The Hollywood Reporter posted a major update that HBO is not considering only one Game of Thrones animated project, as previously reported, but at least three separate animated projects. Moreover, THR reported that one of these three ideas was specifically about the Golden Empire of Yi Ti - a land in the distant east of Essos which is loosely their world's Fantasy analogue of Imperial China (Yi Ti is about as far east of Qarth as Slaver's Bay is west of it). Yi Ti hasn't been visited in the main A Song of Ice & Fire novels, so this project would apparently draw on the extensive chapter about Yi Ti in The World of Ice & Fire, the sourcebook published in 2014.[41] This raises the possibility that one of the other two unidentified animated projects might be an adaptation of other chapters from the World book about lands beyond Westeros, such as the chapter about the Summer Islands.
THR's July 16 report also stated that the proposed "Flea Bottom" prequel had been quietly dropped, also noting that it was only ever "the most nascent" of ideas for a spinoff. It apparently never went beyond the pitch phase and didn't have screenwriters attached - if it ever even was a formal "pitch" or was just an idea that was being informally suggested.[42]
Much later in June 2022, THR leaked that a sequel show focusing on Jon Snow was in development. On June 23, 2022, George R.R. Martin confirmed in a blog post that not only was the project real, but it was the creation of Kit Harington himself. Moreover, Martin revealed that the project - with the working title "Snow" - had been in development for almost as long as the other current pitches, and he considered it co-equal with the other three live-action successor projects. He went on to say that the project was actually so far along in development that Harington had already put together his own team of screenwriters, who had met with Martin in person, and they had already produced multiple draft scripts for it. Martin emphasized, however, that all four of these live-action projects including Snow have not been greenlit and there is no guarantee that any of them will be produced.[43]
Thus from about 2020 to 2021, the "second wave" of prequel pitches consisted of:
Tales of Dunk & Egg (with Steve Conrad attached)
9 Voyages of Corlys Velaryon (with Bruno Heller attached)
Nymeria & the 10,000 Ships of the Rhoynar (with Amanda Segel attached)
Snow (a sequel focused on Jon Snow, developed by Kit Harington himself)
Flea Bottom (a nascent idea that was rejected very early on)
3 animated projects, one of which is Yi Ti
Quite separately, a Broadway stage-play about the Great Tourney at Harrenhal, produced by George R.R. Martin himself (which has been definitely ordered and is set to premiere in 2023).
It is unknown what sparked this second wave of prequel pitches. It may have simply been a natural outgrowth, due to HBO's wish to expand the Game of Thrones franchise as its own cinematic universe to compete with expansion by various other streaming platforms, with multiple Star Wars and Marvel TV projects in development. Another factor might have been that after only three years, AT&T decided to disengage from the television industry by selling off WarnerMedia yet again, this time in a merger deal with Discovery+ (announced in May 2021 after months of private negotiations), rebranding WarnerMedia into "Warner Bros. Discovery". With two massive corporate restructurings in only three years, it is unclear how future Game of Thrones spinoff projects will be affected - but in general, the new leadership under Discovery's David Zaslav seems optimistic about building it up as a flagship franchise for HBO Max.[44]
At this point in time, it is impossible to know if any of the second wave of pitches revealed in early 2021 are original ideas, or recycled pitches from the first phase under new writers - given that this is exactly what happened to House of the Dragon itself (the initial pitch by Cogman was actually rejected, but the basic idea to adapt that prequel era was then handed over to a new set of writers). The identity of the fifth pitch was never revealed, and Martin said there was a sixth one at first that HBO rejected out of hand. For all we know, the "fifth prequel" out of the five pitches announced in May 2017 might have been about the 9 Voyages of Corlys Velaryon - or it could be something else entirely. Moreover even if any idea was recycled it might not have the same writers attached in 2021 compared to a full four years before in 2017.
Ryan Condal also revealed that, in some sense, he was both the first and last screenwriter of the first cycle of pitches for prequel projects: he approached George R.R. Martin in early 2016 about doing a Tales of Dunk & Egg prequel, but Martin himself rejected the idea out of hand at the time because he wanted to finish that series first. Thus Condal's suggestion was never a formal "pitch" and wasn't one of the other ideas HBO rejected early on. After Condal's early suggestion to do Dunk & Egg was rejected in 2016, he ultimately came back at the end of the first pitch cycle in 2019 to helm House of the Dragon.[45]
On November 30, 2021, Deadline reported that Steve Conrad was attached as writer and executive producer on a potential Tales of Dunk and Egg prequel pitch.[46]
On March 9, 2022, George R.R. Martin himself gave an update in his blog that all of the currently known prequel projects are proceeding well, confirming that all three have advanced from the "pitch" phase to the "pilot script" phase of development, though it will be some time before HBO might order a pilot to be filmed. He also confirmed that the working titles of the three current live-action prequel projects are The Sea Snake (young Corlys Velaryon), The Hedge Knight (Dunk & Egg), and Ten Thousand Ships (Nymeria and the Rhoynar). Additionally, Martin confirmed that the three rumored showrunners are in fact attached to each project (Heller, Conrad, Segel). He went on to say that animated projects are also proceeding well, and that the already leaked one about the Golden Empire of Yi Ti has the working title The Golden Empire. Martin also acknowledged for the first time that the Yi Ti project has moved beyond the opening negotiation phase in that it has a writer attached (he didn't say who) and that he has seen concept art produce which he is very happy with. This does not guarantee that the animated Yi Ti project will ultimately be greenlit.[47]
Potential successor projects
In late July 2017, Elio Garcia and Linda Antonsson, who run the major book fansite Westeros.org, made a set of videos speculating on the identity of the five prequel pitches, and of various other ideas that might potentially be adapted in years ahead. They co-wrote The World of Ice & Fire with Martin and have had a close relationship with him for years. Going through the Timeline of major events in the history of Westeros and the lands beyond it, Elio & Linda gave an assessment for which distinct prequel ideas exist, and which could plausibly be adapted as a TV series. They generally felt that it was a bad idea to try to make prequels that didn't have a large amount of print source material, thus the strongest contenders were adaptations of prequel novellas Martin has already written for different time periods.[48]
Elio & Linda split the possibilities into two groups: prequel ideas set (primarily) in Westeros,[49] and prequel ideas set beyond Westeros.[50]
Possible major prequels in Westeros:
Potential prequels set beyond Westeros:
References