Doctor Strange in The Multiverse o Madness - The Loop
Play Sound
| | |
| --- | --- |
| | This article is a stub, an article too short to provide more than rudimentary information about a subject. You can help the Game of Thrones Wiki by expanding it. |
This article is a guide to official merchandise based on Game of Thrones, the HBO TV series adaptation of the A Song of Ice and Fire novel series by George R.R. Martin.
Blu-ray and DVD releases
Soundtracks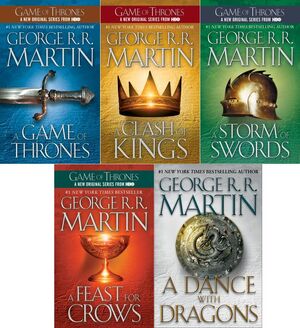 The main novel series written by George R.R. Martin, which have been adapted into the HBO TV series, is the A Song of Ice and Fire series. The first novel is named A Game of Thrones, from which HBO decided to title the entire TV series as "Game of Thrones". Martin has also written various side stories and prequel novellas which are not part of the A Song of Ice and Fire series proper, though they are set in the same fictional world and reveal more backstory relevant to the main series.
A Song of Ice and Fire: the main series novels
A Game of Thrones (1996) - after which the TV series is named. Adapted as Season 1 of the TV series.
A Clash of Kings (1998) - adapted as Season 2.
A Storm of Swords (2000) - so long that it had to be split into two TV seasons: Season 3 adapted the first half, while Season 4 adapted the second half.
A Feast for Crows (2005)
A Dance with Dragons (2011) - books 4 and 5 were originally one novel, but grew so impractically long that they were split into two separate books. The events of both occur concurrently. Book 4 follows the storylines of characters in the Seven Kingdoms themselves (including all plotlines in King's Landing), while Book 5 covers the storylines of characters outside of the Seven Kingdoms (Jon Snow and the Night's Watch, Daenerys Targaryen in Slaver's Bay, and Tyrion as he flees to the Free Cities).
The Winds of Winter (forthcoming)
A Dream of Spring (forthcoming)
The Tales of Dunk and Egg (prequel novellas)
The Tales of Dunk and Egg are a series of prequel novellas set about 90 years before the events of the main A Song of Ice and Fire series. Legal negotiations are taking place to adapt them as a potential prequel to the main Game of Thrones TV series, though production would only begin after the main series has concluded.
The Hedge Knight (1998)
The Sworn Sword (2002)
The Mystery Knight (2009)
The She-Wolves of Winterfell (forthcoming)
A Knight of the Seven Kingdoms (omnibus hardcover book collecting the first three novellas, due Fall 2015).
Through his blog, Martin his indicated that "The She-Wolves of Winterfell" was just a working title, and that the final title when it is released will be something else. Another forthcoming Dunk & Egg story which he has fairly well planned out is called "The Village Hero" and takes place in the Riverlands.[1] Others he intends to write include "The Sellsword", "The Champion", "The Kingsguard", and "The Lord Commander", along with several as-yet untitled story ideas.[2]
The Dance of the Dragons prequel novellas
In-universe history novels about the great civil war between two rival branches of House Targaryen known as the Dance of the Dragons, which was fought about 170 years before the War of the Five Kings. It was the only major war in Westeros's history in which both sides had dragons and used them against each other, resulting in massive devastation.
The Princess and the Queen (2013)
The Rogue Prince (2014)
Companion books to the novel series
The Art of Ice and Fire, Volume I (2005)
The Art of Ice and Fire, Volume II (2011)
A Feast of Ice and Fire (2012) - a fan-produced cookbook attempting to recreate the food and drink featured in the novels (with a Forward section written by Martin).
The Lands of Ice and Fire (2012) - a collection of posters depicting exclusive, highly detailed maps of the locations in the novels. Includes full world maps not otherwise included inside the published novels.
The World of Ice and Fire (2014) - a detailed sourcebook about the backstory of Westeros, presented as an in-universe history textbook. Contains a large amount of information not found in the main novels.
Fire & Blood (2018) - another in-universe history book: while the World book broadly covers everything from the North and the Reach to the Free Cities, Fire & Blood is focused in more detail on the three century reign of the Targaryen dynasty up to Aegon III. It is meant to be based on all of Martin's previously unpublished notes about the backstory of House Targaryen. The upcoming prequel series House of the Dragon is based on this book, specifically the events of the Dance of the Dragons.
Fire & Blood, Volume Two (Forthcoming) - a continuation of Fire and Blood up to the reign of Aerys II Targaryen, the "Mad King." Martin revealed in July 2017 that Fire & Blood would have a second volume due to the size it had grown too, but that he won't continue with it until after the main novels are finished.
Extra-universe books: works written about the TV series and novels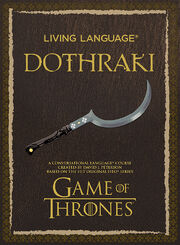 Action figures and toy sets
McFarlane
In 2015 Mc Farlane toys released several sets of construction toys, with bricks similar to Lego's, but more detailed. The set also included realistic figures in a 2 inch scale.
The sets released
The Iron Throne Room, which included the Iron Throne, Joffrey Baratheon, and a Kingsguard
The Lannister Banner pack, with two Lannister soldiers
The Stark banner Pack, with two Stark soldiers
12 different "blind bags" with the following figures: Jon Snow, Ghost, Daenerys Targaryen, Rhaegal, Tyrion Lannister, Grey Worm, Kingsguard, Wildling with axe, Wildling with spear, Wight with sword, Unsullied attacking, and a Man of the Night's Watch defending.
Two extra set were announced but never realeased in stores:
Mother of Dragons
Attack on the Wall
Funko
The Funko Legacy Collection: Game of Thrones consists of detailed, well-sculpted, 6 inch scale figurines (short characters are smaller than this, while larger than average characters are slightly taller). Each figure's box is conveniently numbered.
Wave 1 - released February 2014
Wave 2 - released October 2014
7 - Jaime Lannister (Season 1) in Kingsguard armor
8 - Brienne of Tarth - in Season 2 armor
9 - Arya Stark - in Season 3/Season 4 costume
10 - Khal Drogo
11 - Robb Stark - in Season 2/Season 3 armor and cape
12 - Daenerys Targaryen - in Season 3 blue traveling costume with cape, including the slave whip she takes from the slave-masters of Astapor.
Funko ceased production on its Legacy Collection figures after 2014. While the figures were praised for their accuracy, this also led to some problems with fragility and a slower production rate.
Funko 3.75 inch figures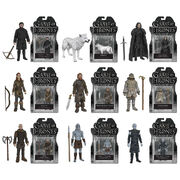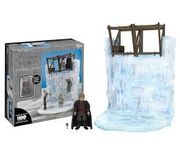 In April 2016 Funko re-launched its efforts at producing Game of Thrones action figures with a new series of 3.75 inch action figures. As with other 3.75 inch series, being smaller and less expensive will allow them to produce figures for a wider range of characters.[3]
The first wave of figures in the 3.75 inch series include:
Dark Horse
Dark Horse 7.5 inch figures based on Game of Thrones were first released in July 2014.[4]
With the release of Brienne and Sandor figures in the Fall 2015 wave by Dark horse, every character that has a Funko Legacy Collection figure also has a figure produced by Dark Horse - and Dark Horse went beyond Funko's series to produce figures for characters that have no counterpart in the Funko series (including Cersei, Joffrey, Sansa, and more). In 2018, Wave 7 marked a re-release of existing characters in new attire. This included a redesign of the packaging.
Wave 1 - Spring 2014:
Ned Stark - in riding gear with fur cape
Jon Snow
Daenerys Targaryen - in wedding dress from Season 1 episode 1, with box containing dragon eggs
Khal Drogo
Tyrion Lannister
Wave 2 - Summer/Fall 2014:
Robb Stark (Season 2)
Arya Stark (Season 2)
Jaime Lannister (Season 1)
Cersei Lannister (Season 2)
A White Walker
Wave 3 - Spring 2015:
Tywin Lannister - in Season 3 costume
Joffrey Baratheon - in formal wedding attire
Petyr "Littlefinger" Baelish
Hodor carrying young Bran Stark on his back
Wave 4 - Fall 2015:
Sansa Stark - in "Dark Sansa" costume from the end of Season 4
Brienne of Tarth - in Season 4 armor
Jorah Mormont - in Season 4 costume
Sandor "The Hound" Clegane - with custom hound-shaped helmet that opens and closes
Wave 5 - Spring 2016:
Margaery Tyrell - wearing her one of her dresses from Seasons 3-4 (see "Dress B" in her Costumes page).
Oberyn Martell - in his resplendent everyday attire, not his combat armor
Varys
Ygritte - in Season 4 attire (there is no snow cover south of the Wall yet so after crossing the wildlings worse their coats inside-out, as the brown color would camouflage them better than the white side). Includes her bow and arrow.
Wave 6 - Fall 2016:
Wave 7 - Summer 2018:
Daenerys Targaryen - Mother of Dragons
Tyrion Lannister - Hand of the Queen
Jon Snow - Battle of the Bastards
Tormund Giantsbane (Dark Horse Direct Exclusive)
Melisandre
Threezero
The Threezero: Game of Thrones figures series are a set of 1/6 scale fully-articulated action figures Licensed by HBO's Game of Thrones. While the number of characters is limited they are expanding the list.
Threezero: Game of Thrones figures produced so far are:
Eddard Stark
Tyrion Lannister
Jaime Lannister
Jon Snow
Daenerys Targaryen
Sandor Clegane
Other figures
Funko Pop! Television Figurines are a series of 3.75 inch vinyl figurines based on characters from various TV series, including HBO's Game of Thrones. They are not highly detailed or an attempt to be photo-realistic, but instead a cute cartoon version of characters, with oversized heads. While they are not as detailed as "action figures" or other figurines, by the same token they are cheaper to produce, so they come in a much greater variety than regular action figures. Many characters who have never appeared as photo-realistic action figures do have Pop! figurines modeled after them.
Funko Pop! figurines produced so far are (in order of release):
Daenerys Targaryen (Season 2, Dothraki costume)
Daenerys Targaryen (Season 2, Dothraki costume, Gold Dragon)
Daenerys Targaryen (Season 2, Dothraki costume, Red Dragon, error)
White Walker (Glow in the Dark)
Jaime Lannister (Season 1, Kingsguard)
Tyrion Lannister (Season 2, Battle armor)
Icy Viserion (2020)
Daenerys Targaryen (Season 1, Wedding dress)
Daenerys Targaryen (Season 3, Blue dress)
Dragon 3-Pack
Dragon 3-Pack (Metallic)
Jon Snow (Season 4, Castle Black)
Jon Snow (Muddy)
Sansa Stark (Black Hair)
Viserion (6")
Jaime Lannister (Season 4, Golden hand)
Iron Throne (NY Comic Con exclusive)
Ramsay Bolton (Gamestop exclusive)
Melisandre (Glow in the Dark)
Night King (Glow in the Dark)
Night King (Transparent)
Night King (Metallic)
Drogon (Hot Topic exclusive)
Jon Snow (Winterfell)
Tyrion Lannister (Essos)
Bran Stark (Standing)
Tormund Giantsbane (Snowy)
The Mountain (King's Landing)
Daenerys (White Coat)
Giant Wight
Jon Snow (Wildling)
Daenerys in Dragonstone Throne
Leaf (Metallic)
Iron Throne Characters (Jon Snow, Daenerys, Cersei, Tyrion, Night King)
Metallic Night King on Iron Throne
Arya Stark (Winterfell)
The Mountain (6")
The Mountain (6" Without Helmet)
Arya Stark (with Spear)
Sansa Stark (Queen)
King Bran
Crystal Night King
Glow in the Dark Crystal Night King
Jorah and Daenerys (Battle of Winterfell)
Ser Brienne of Tarth
Hodor holding the Door
Eaglemoss Game of Thrones Official Collectors Models [5]
In 2016 Eaglemoss released its HBO Official Game of Thrones collectors models detailing key characters in pivotal moments in their characters story throughout the shows span. The initial subscribers list of models (Nov 2015) differs from the official retail release schedule (second quarter 2016). The list here is of models that have been released via the official 2016 schedule. Each model comes with its own unique magazine detailing the characters and the moments the characters have in the show relating to the model. (UPDATE: As of January 2018 (issue 50) the figures will be released once per month, no longer twice per month). Unfortunetly it looks like the collection will end at issue 60 instead of a continuation.
Specials
Subscriber Gifts
Binder
Model Plinth
The Three Eyed Raven Model (as a crow)
Drogon (3rd Dragon) (Dragon with every 20th issue)
Rhaegal (1st Dragon)
Viserion (2nd Dragon)
Deluxe collectibles
Replica swords, statues, etc.
Computer games
These are video games and app games based on Game of Thrones, though none are officially part of the TV continuity.
Current games
Game of Thrones: Ascent - A Facebook App-based game first released in 2013. No original narrative, with gameplay involving managing a player-created House and building up alliances (it is therefore not strictly part of the "TV continuity"). The game was a 2013 Facebook Game of the Year in the Staff Picks category. Currently has its own separate standalone wiki for keeping track of quests, items, etc.
Game of Thrones: A Telltale Games Series (2014-2015). An episodic graphic adventure series featuring large amounts of original storyline. The story is set in the background of Season 4, following how the War of the Five Kings is playing out at the local level among several minor Houses such as House Forrester. Many main cast members from the live-action series provide the voices for their characters in the game.
Past games and vaporware
Battle for the Iron Throne (2011) - an online Facebook App game. No original story content. No longer available as of 2015.
Game of Thrones (2012) -a role-playing game, for Playstation 3, Xbox 360, and PC. Critical reviews were mixed to negative, and despite a few cast cameos, it contradicts enough information from the main HBO series that it is not considered part of the "TV continuity".
Game of Thrones: Seven Kingdoms (TBA) - an online browser-based MMORPG. In development since 2012, but repeatedly delayed from release. As of October 2015 it is still in development hell and seems to have been abandoned entirely.
The online HBO Store
HBO Store's Game of Thrones section - an extensive catalogue and online order system for official Game of Thrones merchandise, including Blu-rays/DVDs/soundtrack CDs, licensed clothing, figures, deluxe collectibles, accessories, jewelry, and wall posters.
References