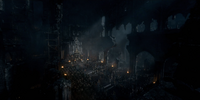 The Great Council at Harrenhal–
was convened to determine the heir to the Iron Throne in the final years of old King Jaehaerys I Targaryen, grandson of Aegon the Conqueror. Jaehaerys outlived both of his sons, leading to a succession crisis. To avoid a civil war, an unprecedented council was held at Harrenhal in which every lord of Westeros, great or small, convened to decide the succession between Jaehaerys's grandchildren.
We are currently housing
4,644
articles, and
12,710
files.
We need YOUR help expanding and adding articles to the wiki! If you're new to FANDOM, please take a moment to read the Wiki tutorial before getting started. If you're new to this wiki, please observe our Policies and guidelines, and if you get stuck feel free to check in at the help desk.
...an encyclopedic guide to the HBO television series Game of Thrones and House of the Dragon that anyone can edit. Our content is up to date with the latest aired episode so beware of spoilers if you are not.