IMDb has named House of the Dragon the most-anticipated new TV series of 2022, based on site traffic.
Variety reports that writer Steve Conrad is now attached to a potential Tales of Dunk and Egg prequel project.
We are saddened to report that Bart the Bear, the actor-bear who featured in Season 3's seventh episode, died from old age on November 14, 2021.
The official House of the Dragon teaser is here! Four new cast members in it were also announced with its release: Wil Johnson as Vaemond Velaryon, John Macmillan as Laenor Velaryon, Savannah Steyn as Laena Velaryon, and Theo Nate as Young Laenor.
Seven more cast members for House of the Dragon have been confirmed: Ryan Corr as Harwin Strong, Jefferson Hall as Jason and Tyland Lannister, David Horovitch as Mellos, Graham McTavish as Harrold Westerling, Matthew Needham as Larys Strong, Bill Paterson as Lyman Beesbury, and Gavin Spokes as Lyonel Strong.
As of July 2021, in addition to House of the Dragon, SIX other prequel pitches are being actively considered by HBO:
3 live-action and 3 animated.

Dragonpit Summit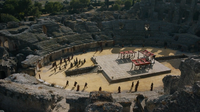 The Dragonpit Summit was a parley of the major monarchs of Westeros in King's Landing to discuss the future of the Seven Kingdoms after Daenerys Targaryen's war for Westeros comes to a stalemate and an armistice proposed by Lord Tyrion Lannister is agreed upon. In the past, "Great Councils" have been convened to discuss the future of the realm when the line of succession of the monarchy and inheritance of the Iron Throne is unclear.
We are currently housing
4,736
articles, and
13,084
files.
We need YOUR help expanding and adding articles to the wiki! If you're new to FANDOM, please take a moment to read the Wiki tutorial before getting started. If you're new to this wiki, please observe our Policies and guidelines, and if you get stuck feel free to check in at the help desk.
...an encyclopedic guide to the HBO television series Game of Thrones and House of the Dragon that anyone can edit. Our content is up to date with the latest aired episode so beware of spoilers if you are not.