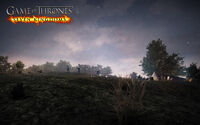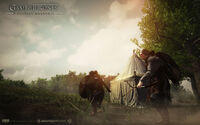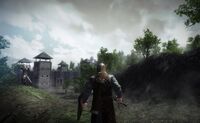 Game of Thrones: Seven Kingdoms[1] is an online MMORPG, or massively-multiplayer role-playing computer game. It is based on the HBO series Game of Thrones for the PC platform. It will be browser-based, with no need to download the game to your computer before playing. The game was announced in February 2012 and planned for release in 2013. TV producers David Benioff and D.B. Weiss are listed as producers on the game.
Overview
The game opens shortly after the events of the first season of the TV show, with Westeros engulfed by civil war following the deaths of Robert Baratheon and Eddard Stark. Players will fight one another or cooperate as they choose sides in the conflict.
The game is being developed by Bigpoint Games, a successful developer of online MMORPGs. Their previous biggest success was Battlestar Galactica Online, which as of early 2012 had more than nine million players. The game uses the Unity engine, which can generate relatively complex 3D imagery on the fly through a browser. Norwegian game studio Artplant is working on the title alongside Bigpoint.
The game has no connection with Game of Thrones, a single player role-playing game developed by Cyanide Studios for PC and consoles.
Development history
The game was first announced in February 2012 (weeks before Season 2 premiered), and the first look was unveiled at the Game Developers Conference in March 2012. The first trailer for the game was released on July 12, 2012.[2]
No news on the game was given throughout Season 2, Season 3, and Season 4. As of November 2014, over a year past its originally projected release date, the game is still in development hell. It seems probable that the game has been abandoned entirely: its official Twitter feed has not been updated since summer 2012 (for SDCC 2012), and by late November 2014 its official website went offline.
See also
References
Community content is available under
CC-BY-SA
unless otherwise noted.