| | |
| --- | --- |
| | The title of this article is conjecture based on information revealed in the A Song of Ice and Fire novels or related material and may be subject to change. |
Eglantine was the septa of Princess Myrcella Baratheon.
Biography
Background
Eglantine is a septa of the Faith of the Seven. She serves at the Red Keep in King's Landing as governess and companion to Princess Myrcella Baratheon.
Eglantine is among the royal entourage for a tourney to celebrate King Joffrey Baratheon's nameday.[1]
Eglantine watches over Princess Myrcella as she plays blind man's bluff with two courtiers.[2]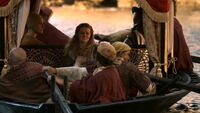 Eglatine accompanies Princess Myrcella, now a ward of House Martell, on her journey from King's Landing as they travel to Sunspear as part of the betrothal arranged by Princess Myrcella's uncle Tyrion Lannister of Princess Myrcella to Prince Trystane Martell.[3]
Appearances
Image Gallery
In the books
In the A Song of Ice and Fire novels, Septa Eglantine is a loyal servant of the royal family and Princess Myrcella Baratheon. She accompanies Myrcella as part of her retinue when she is sent to Dorne as part of the marriage alliance arranged by Tyrion Lannister with House Martell.
See also
References