Carly A. Wray (User:Ngtivspace) is an American television writer and producer, who has presented one of the five pitches to HBO for a Game of Thrones prequel TV series. Her project has George R.R. Martin attached as a co-producer.
Background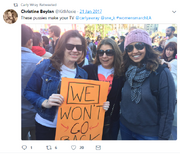 Carly Wray was born and raised in Arlington, Texas.
The first print publication Carly Wray ever appeared in was in August 1998, at the age of 18, when Entertainment Weekly published a paragraph-long reader mail she sent in. Her letter was reacting to a satirical article the magazine ran titled "If Girls Ran Hollywood...", which she felt was filled with ugly stereotypes (i.e. claiming that there would be numerous Titanic sequels, due to the blockbuster success of that film earlier in the year). Her exact words were:
"If 'girls ran Hollywood', these types of substanceless articles would never be printed. After reading this article, I can't even begin to list all of the things that are offensive and stereotypical about it. I don't know where you found these little fashion-mag clones, but next time you feel like hearing from 'the mouths of babes', check with some of us teenagers who have minds."[1]
She attended Reed College in Portland, Oregon, pursuing an English major, and graduated in 2002. She then attended USC School of Cinematic Arts, graduating in 2005. She is a graduate of USC's Peter Stark Producing Program - a training program for future members of the Producer's Guild of America, specifically educating students about every step of the creative process from development through distribution.[2] This is in sharp contrast with David Benioff and Dan Weiss, who later bluntly admitted that they were two novelists (and occasional scriptwriters) who had "no television production experience whatsoever" when the original Game of Thrones project began, and that they simply lied to George R.R. Martin claiming that they actually did in order to get their jobs.[3] After graduating in 2005, Wray worked in feature development at Disney and several production companies.
Eventually, Carly Wray got a position as a professional wine & spirits journalist in New York City (specifically, living in Brooklyn). She became a staff writer for major wine connoisseur website Snooth.com, the world's largest fine wine review website, from 2010 to 2012 (click this link to see her archived articles). Her work included touring the wine regions in France, Spain, Croatia, Argentina, and other countries.[4] She also helped found the wine journalism website WineFraud.com (which issues reports about counterfeit cheap wines being passed off as expensive collector's items).
By 2018, Carly Wray lives in Los Angeles with her husband. She is fond of Mini Twix snack bars.[5] She has also stated that she frequently reads Wikipedia articles about real-life unexplained horror stories - involving monsters, aliens, ghosts, Deep Ones, etc. - such as the Dyatlov Pass incident or the Kelly-Hopkinsville encounter. She has been known to edit her own wiki articles.
Career
Carly Wray started her career in television as a writer's assistant on AMC's Mad Men in 2012. One year later, she was promoted to staff writer, and co-wrote her first script, Season 6's "In Care Of", with Matthew Weiner. She went on to write two episodes in the show's final seasons, "Waterloo" and "The Milk and Honey Route". Wray received the 2016 Writer's Guild of America Award for Dramatic Series for her work on Mad Men (all 3 episodes collectively). During her time on the series (2012-2015), five out of eleven members of the writer's room on Mad Men were women (including her). Her fellow writers remarked on how many TV series still struggle with representation in the writer's room, and how wonderful it was that for once they weren't the "token woman" representing their entire gender in their views on the writing, but could have more in-depth discussions about the direction for the characters.[6]
Of working on Mad Men, Carly Wray said:
"I pitched a few stories about my workplace and my boss when I was an office assistant. They sort of translate whether it was 1960 or 1980 or today. The show takes place in the 1960s, but so much is about today. It's just a lens through which you're seeing these stories that happen everyday in everybody's lives."[7]
Following Mad Men, Wray wrote scripts for individual episodes on a variety of drama series, including Constantine (2014), The Bastard Executioner (2015), and Mindhunter (episode 1.9) (2017).
Carly Wray's next major project was in 2017, when she became both a writer and co-producer on the third and final season of the HBO drama The Leftovers.
Afterwards, Carly Wray joined HBO's Westworld as a writer and producer in its second season, which premiered in 2018. Wray wrote the episodes "Reunion", "Phrase Space", and the critically praised "Kiksuya".
On May 18, 2018, it was announced that Carly Wray signed another development deal with HBO to develop the anthology drama series You Know You Want This, adapted from Kristen Roupenian's short story collection. Wray will be co-developing the project along with Lila Byock, a fellow former writer from The Leftovers Season 3. The anthology series is set out to prioritize female voices behind the scenes - writers, directors, and actors. You Know You Want This will "explore the complex and often dark and funny connections between gender, sex, and power across genres." Byock, meanwhile, is also a producer on HBO's Watchmen spinoff project developed by Damon Lindelof (creator of The Leftovers). Byock stated that her goal with You Know You Want This is to help "smash the Patriarchy".
Game of Thrones prequel project
On May 4, 2017, HBO announced that it had ordered pitch scripts for five separate Game of Thrones prequel projects, one of them by Carly Wray as potential showrunner.[8]
HBO has said that, due to the massive logistics involved, it will probably only pick up one of these pitches to go into full production.
On May 9, 2017, Carly Wray edited her own Wikipedia article to update it with the announcement. Of all the news media reports about the announcement, Carly Wray chose to specifically cite the reaction of IndieWire critic Ben Travers, including the quote:
"Wray can nudge the franchise in a new direction, since Game of Thrones has been a boys' club for most of its journey thus far. Bringing in a female perspective is a great idea, especially with so many female characters to explore in a spin-off - and especially with a candidate like Wray reading a script".[9]
As IndieWire indicated, in contrast with Mad Men during Wray's tenure - during which it had 11 staff writers, 5 of them female - Game of Thrones had no female writers whatsoever after Season 3 (nor a female director after Season 4). This is a historic low: the first time in over 30 years that an Emmy-nominated drama went at least three years (much less, five) without a female writer or director.
It is unknown if Wray will partner again with Lila Byock on any Game of Thrones prequel project.
Filmography
Mad Men (2012-2014) - staff writer
Constantine (2014) - writer (1 episode)
The Bastard Executioner (2015) - writer (1 episode)
The Leftovers (2017, Season 3) - writer/co-producer
Mindhunter (2017) - writer (1 episode)
Westworld (2018, Season 2) - writer/producer
See also
References
Community content is available under
CC-BY-SA
unless otherwise noted.