The Sandman Will Keep You Awake - The Loop
Play Sound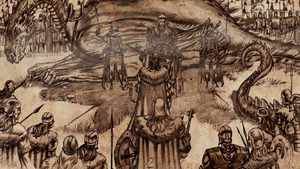 "Bending the knee" is a formal act of submission to a king, queen or lord, a recognition of authority and a demonstration of fealty. It is common for surrendering parties to bend the knee after being defeated in a war or rebellion; in return, the ruling king or lord will usually treat those that bend the knee with leniency - e.g. Torrhen Stark, the King in the North, bent the knee to Aegon the Conqueror to spare the lives of the people of the North, and was named Warden of the North by Aegon in return.
Known acts of "bending the knee"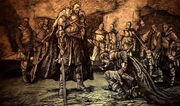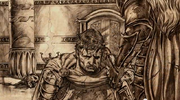 During the Conquest, Visenya Targaryen rode Vhagar over the Bloody Gate and up to the Eyrie, where the child King Ronnel Arryn surrendered the Vale of Arryn in return for a ride on the dragon's back.

Before the Field of Fire, the High Septon of Oldtown affirmed that after seven days of praying The Crone had shown him that opposing the Targaryens would mean the destruction of Oldtown, so Manfred Hightower did not add his forces against Aegon, and when the Conqueror headed to the City lord Hightower freely opened his gates submitting to Aegon's authority.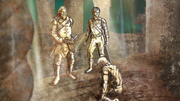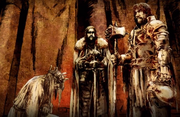 Quotes
In the books
In the A Song of Ice and Fire novels, bending the knee is mostly considered shameful and disgraceful, but there are exceptions: for instance, Balon Greyjoy believes there is no shame in yielding. He taught his daughter "No man has ever died from bending his knee. He who kneels may rise again, blade in hand. He who will not kneel stays dead, stiff legs and all". Balon has proved the truth of his own words when his first rebellion failed; he bent the knee to the Baratheons and Starks, only to rise again when Robert Baratheon and Eddard Stark were dead.
Asha follows her father's advice after she is defeated and captured by Stannis. She tells him "I yield, Your Grace. Do as you wish with me. I ask only that you spare my men". Stannis agrees to spare her and the very few survivors of her troops.
References